To start, I want to say I usually don't write anything about my former clients, even the bad ones.  But this bride has threatened to spread false information about my company to ruin my reputation if she didn't get the refund "she deserved."  The bride, Julie Harmon, claims to be very active on social media and will do everything in her power to ruin my reputation.    That's a very big threat, so I thought I'd take the first strike to get ahead of her smears.
I'm also asking that if you are the former client of mine and are happy with my services, if you can review me on Yelp and Facebook and write your honest opinion, that would be great.  I have a feeling I am going to need a little bit of social media help on this one.
So onto my story.
It had a been awhile since I had a bridezilla and I knew I was bound to stumble upon one, soon.  The odds were in my favor, and on January 14th, 2018 – it happened.    I'm not sure when Julie first inquired with my company, but it was sometime in mid-December that she expressed an interest in my services.    We communicated via text quite frequently on my personal cell phone, which was no problem.  She had a lot of questions, which was also no problem.   Sometimes, one of the tell signs of a bridezilla is when a bride obsesses about her wedding a little too much, but that's not always the case.  The client could just be lost.  And my responsibility as a planner would be to educate/help my client in whatever way possible.
I thought Julie was just lost.
Julie Harmon agreed on:
To use the Vow Renewal Package for her wedding, as she didn't care about photos
A Maile Lei – for her husband
A Custom Flower Lei – for her – pink/white to match her dress.
A week before the date she added on:
Portable Blue Tooth Stereo
A Bouquet
Roundtrip Limousine from her hotel to Magic Island
Total cost $777.50
Fast-Forward to January 13, 2018 – a day that would live in infamy.
That date doesn't probably ring a bell, but you know about it.  That's the day when The State of Hawaii thought a Ballistic Missile was on its way to the island and many people, roughly close to one million, thought they were going to die.   There are videos of people running on the beaches for cover, parents making their kids go into storm drains, parents crying embracing their kids, it was horrible.  If you want to read about my experience you can click here.  That was one helluva day for a lot of people.  Could you imagine, for about 40 minutes, people thought their lives were going to end.
Consequently, a lot of businesses didn't operate normally.  When I arrived to the florist, their supplier, who was an emotional wreck, decided not to deliver their flowers.   At the flower shop, there was hardly anyone there working.    Take into mind, just hours before, they were hunkering down in the bathtubs of their houses.    I needed a hand-tied white bouquet for my wedding the next day and there was basically no fresh white flowers to go around.   The florist who did make it in, did put something together for me with old white flowers, but didn't expect it to last.  And it didn't.
The next day, the bouquet was dead before Julie's morning wedding on the 14th.
When Julie arrived, I told her the bad news.  The bouquet didn't survive.  I apologized and I told her I would issue her a refund of $175 for the bouquet or we could upgrade the package to the Patriot Package.   To be honest, I wasn't sure what her response was.   Julie kept talking about a million miles per hour, complaining about her nuclear missile experience, how it ruined her vacation, then complaining to her friends about the bouquet.   I chalked it up to nerves.
I knew she was quite nervous because the previous day, she called asking me for drugs – which I don't do.
She then told my minister to not include anything in the vows about "honor and obey because she just doesn't do that."
Now, we've omitted the word "obey" from our vows a long time ago.  But this is the first time I ever heard about a bride asking us to eliminate "honor."
My minister bent over to me and whispered, "Steve-O, I think we're in for a doosy."
Still, I chalked it up to nerves.
The wedding ceremony came around, it went well.  My minister, who was in the moment, did mention the word "honor" mistakenly and Julie flashed this evil look to him that I couldn't forget.  I kinda almost laughed.    But other than that, everything came out well.  I got them their photos right away, but the refund, there was a big delay.  I honestly was not sure on how to refund just $175 from PayPal.   I needed to find the button or something and I just couldn't get PayPal to answer my emails.
I honestly should have just written a check right away but just didn't.  I wanted to do it through PayPal.  And for that right there, I am guilty of not performing the best customer service for the refund.  I'm 100% guilty.   I told Julie in a text over the weekend that I needed her address and I would send her a check asap because I still couldn't figure out PayPal's refund.
And then, that's when the trouble started.
Julie Harmon began texting my phone, angrily.  She then called and accused me basically of ruining her day and not delivering to her a "dream wedding."   She accused me of not only not delivering the bouquet, but also not delivering to her the flowers according to her standard.   She said that the flower leis were not custom-made and that she found the same leis at the grocery store for $12. My leis, were not $40 leis.   I responded, well, they are not of course 40 dollar leis, there is a mark-up to all the leis.   Not to mention,  all services that I provide.  That's how I make money.    And I tell all my customers that if they go through me, things will be more expensive as I build in my coordination fee with each line item.  That helps subsidize all the time for the extra customer service that goes along before the wedding.
That honesty didn't sit too well with her.
But those leis, were absolutely not bought at a grocery store, and were custom made.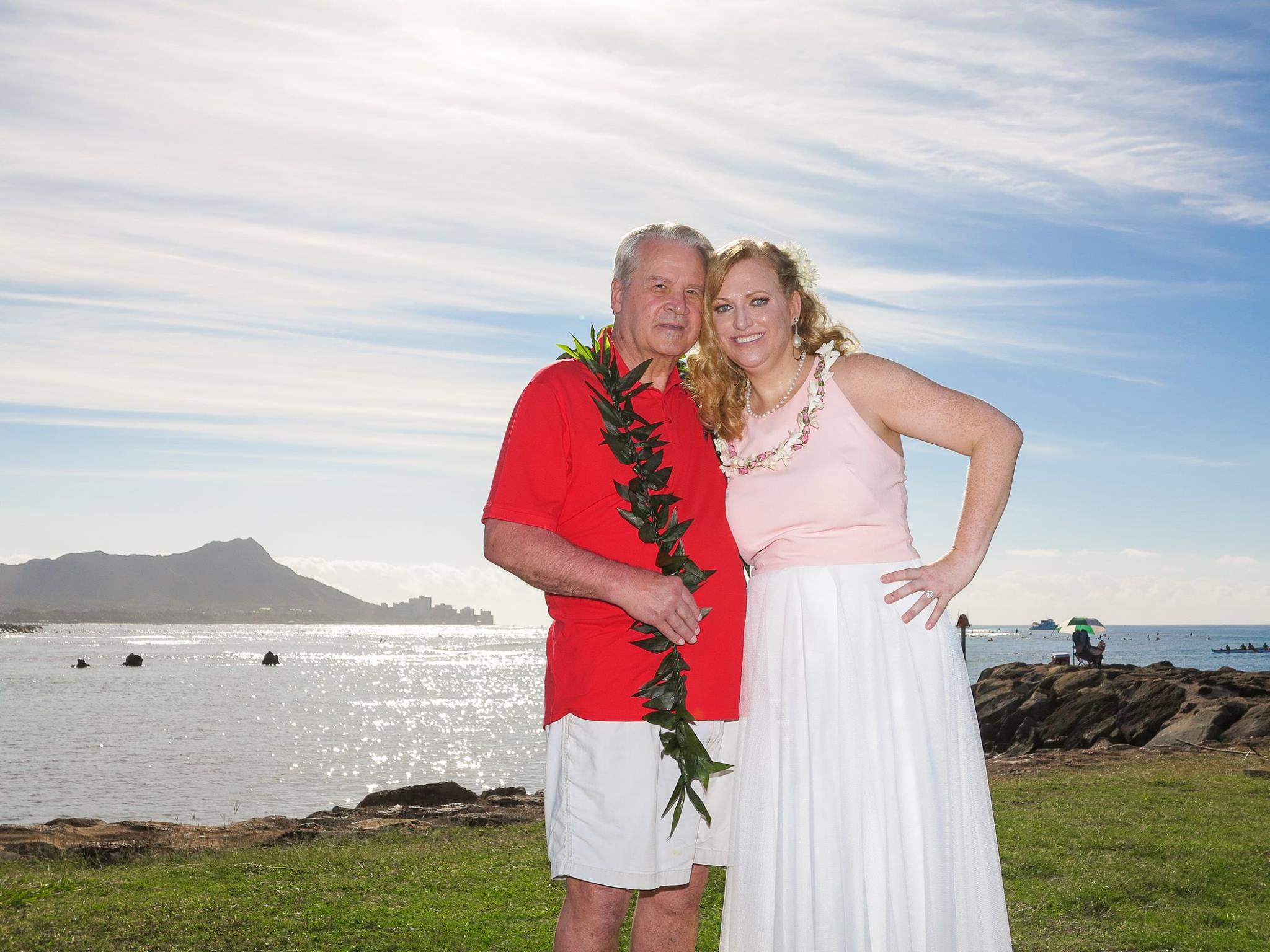 Julie Harmon on the right.  You can't get those in the grocery stores.
The groom is wearing a tea leaf maile lei that is much longer, thicker, and more intricate that ones you buy in tourist stores around Waikiki.   Julie is sporting a tuberose lei intertwined with mini pink roses.   That lei is not sold at any drug or grocery store I know, especially for $12.   Julie claimed I left the price tag on the box, but that is probably the price tag of some other lei, possibly just the orchid lei from a pervious wedding.  Man, I wish that flower cost $12.    I'm thinking it cost me about $26 or $27, which left me with a profit of $12 or so after my markup.
At this point, Julie was ranting on the cell.
I asked her how much of a refund did she want?
Julie demanded, "I want all my money back because you don't deliver.  But I know you're not honorable to do that!"  She then added that flowers are everything in a ceremony and her day was ruined because she had no bouquet.  Honestly, I thought her husband was everything in the ceremony.    But oh well, to each their own.
I calmly responded, "I will refund you the $175 back, immediately, with a check sent to your mail."  I also apologized for not being able to refund it through PayPal.
She did not think $175 was enough.
She then demanded a refund for all of the flowers, maile lei and her flower lei, falsely and accusing me of not delivering what I promised on the flowers – again.   But, I did deliver her a custom lei to match her pink dress, and the maile lei.  That flower lei was custom ordered for her.   It was not bought in a grocery store.
The Maile Lei, she exclaimed, "was a piece of crap and not as advertised."  For the record, it's the same maile lei used in all my other pics.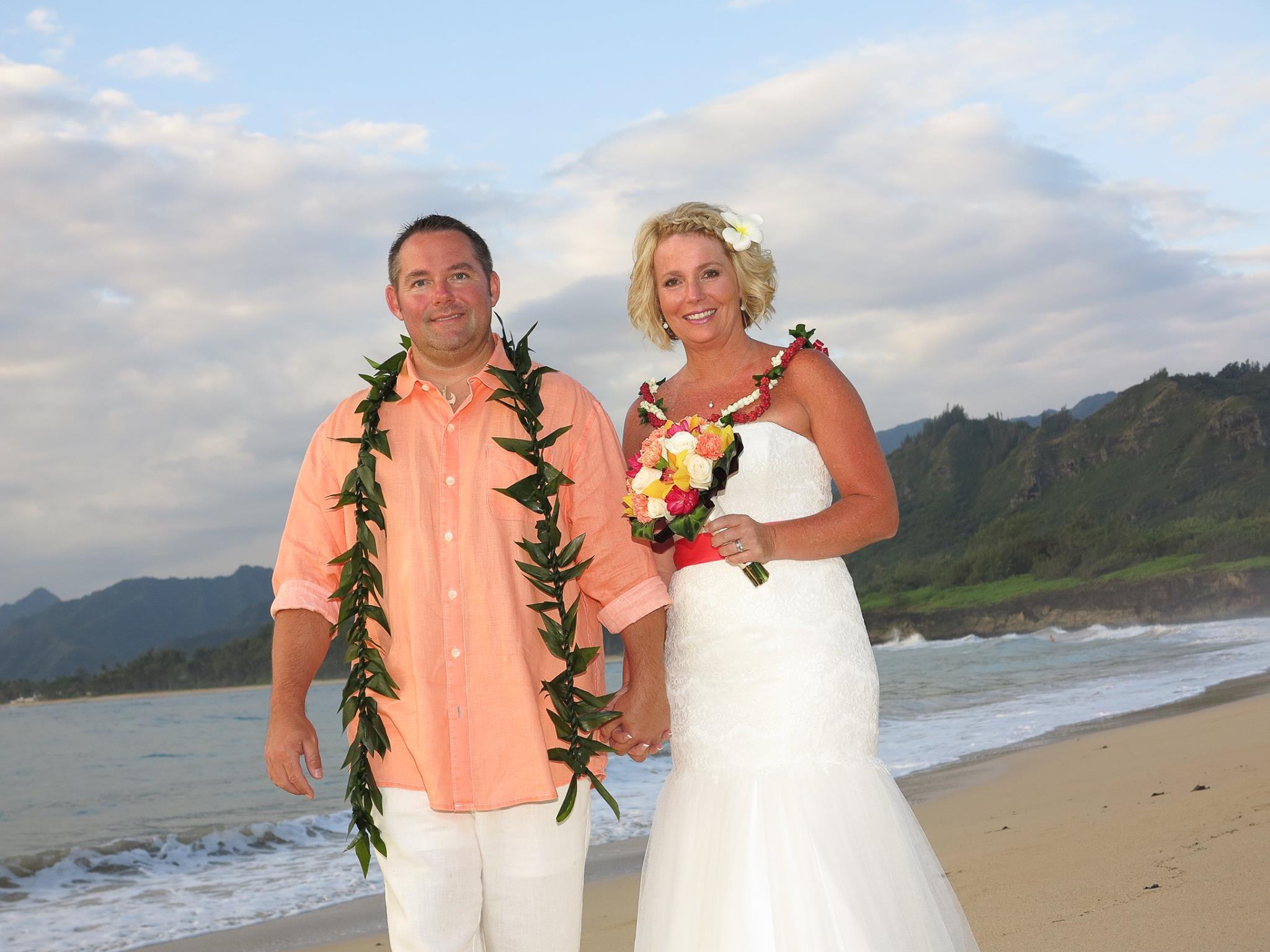 A different couple, basically the same leis.  The bride is wearing a jasmine flower lei (seasonal) intertwined with mini red roses.
Between her demands, she threatened to close down my business and to ruin my character if her demands were not met.  To tell the world on social media how I am some type of liar (not sure the exact words but that's what she was implying).   Honestly, that's pretty scary because I do get my most of my business from the internet.    She then managed to insult me about my photography, asking me why do I choose to shoot from low angles, and if I feel good about myself because I do it.      That was just a weird comment.
Julie is getting a $175 cashiers check sent to her in certified mail and not one penny more.   I'm standing my ground.    Plus, I'm not sending a company check, which has my account number on it.  You never know these days what type of revenge bridezillas are capable of.   Anger makes people do strange things.
Well, I'll be probably keeping this post up here for a long time because Julie was very animated about ruining my reputation.
All I can say is read my reviews, you'll see that I'm good, love what I do, and care about every couple.
UPDATE:
It looks like Julie Harmon is following through with her threats as she is posting fake reviews all over the place.  I have lawyers looking into this.  If I do end up losing business because of fake reviews, she can be sued for lost wages.
She has posted on yelp the following reviews: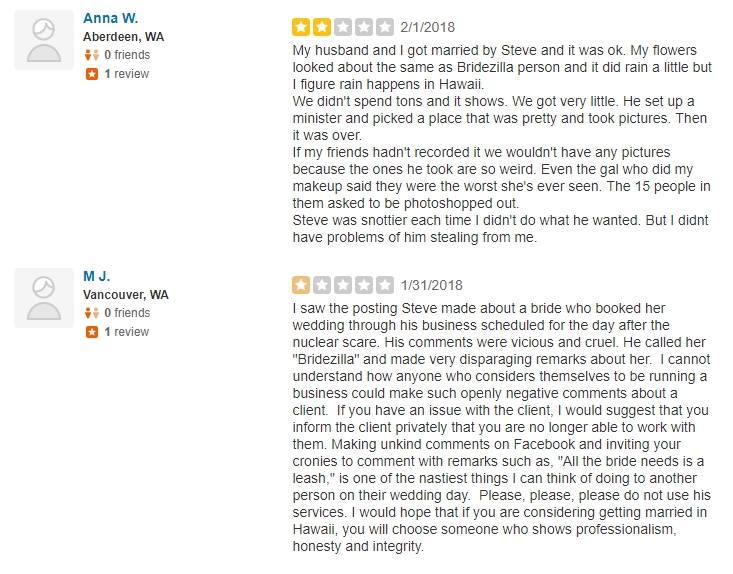 She's such a horrible writer.   I had to laugh when I read, "Steve was snottier each time I didn't do what he wanted.   BUT I DIDN'T HAVE PROBLEMS OF HIM STEALING FROM ME."  Wait a minute.  If she didn't have problems stealing from me, I should get a 5-star rating, right?  haha….hilarious.
Two different id's, posted from Washington, only one review, lol.  Man, I must be popular in Washington.  Oh, by the way, Julie is from Washington.  She's also created a fake ID on google and another one on facebook.    The fake Facebook ID though, was strange.  It was from 2009 or 2010.  That means she was catfishing way back then!  Wow.   She could be a catfish!
Why can't she just review me honestly with her real ID, say her piece, and allow me to rebuttal?   That would be fair.
I did at one time, agree to take down this article if she stayed off of the reviews.  But then she found out that I was venting to my friends and family about having a bridezilla ON MY PERSONAL FACEBOOK PAGE, and then she went nuts.   So apparently, I'm not allowed to talk to my friends and family about my bad experience?  Next thing I know she sent me a threatening text,  basically implying that I should take down my personal status update, or else.  My facebook page is public because I talk about politics on there and invite any good conversation.   But geez, is she that self-conscious on what my friends and family think about me having a very bad client?
Once she started attacking, a lot of my former wedding couples came to my defense.  Here are there responses: