Are you tired of winter yet?  I've seen the snowstorms on TV, they look pretty bad.   Here in Hawaii, it's been rather bad too.  I think it actually got down to 60 degrees two weeks ago and I had to actually put a shirt on when I was walking outside.  And the other day, I wasn't able to put down my convertible top on my B'mer.  Man, we have it tough here.  Haha…  Okay okay.  I kid..I kid…
Here in Hawaii, we haven't had the best weather either lately.  We haven't been getting snow, but we've been getting our fair share of freak one-day cold front rain storms.   In fact, as I write this (3/3/15), it's storming pretty bad outside my house.  I'm hoping that all will change when spring comes….
P.S. Here's one of my favorite Korean Songs, sung my one of my favorite Korean female singers, IU.   It's a nice song…mentions the weather.  Thought I'd share.
I know what you're thinking.  Those male Korean singers look kinda feminine.   They are, but they are not gay.  Just a different culture haha.
Hit the Closed-Caption option to get the subtitles.
March 2, 2015 – Pupukea
My Bride today looked a lot like Jessica Simpson.   Is it just me?  What do you think.  She is the second bride who shares similarities with that celebrity.    We had perfect weather today.  It was storming pretty bad throughout the rest of the island chain though.
March 3, 2015 – Ko'olina
The weather was overcast today at Ko Olina.  Still, it was better than the windward side of the island's weather, which was nothing but rain.   Today's bride was showing a little baby bump.  I tried to pose her my best to hide the bump.  But sometimes, you really just can't help but to photograph the bride from the obvious angle.   Because the bride was pregnant, I had to limit my posing arsenal.   I need to figure out more pregnant poses.  I'm getting a lot of brides who are showing up preggo.
March 4, 2015 – Ko'olina
So the weather hasn't been too great lately.   Everywhere on Oahu is raining, except Ko'olina.  We got some pretty interesting skies today, but no sunset.  Really fun couple today.   Don't I say all my couples are really fun?   They all are.  I don't run into couples who are bad.  Well, maybe once in a few years.
March 8, 2015 – Pupukea
It was a vow renewal today.  The wind was very very strong.   Wind and women's hair don't work well together.   It limits poses.   That cold front that's been hitting the U.S., well, we are getting hit by a very similar cold front. It's bringing strong winds, and also snow.  Yes, it snows in Hawaii, on the Big Island.
March 14, 2015 at 9:26am – Waialae Beach Park
PI is 3.14926.  My couple didn't realized their anniversary date as March 14th, "Pi" date, until they were well into their relationship.  Their wedding also marked their anniversary when they started dating.   To make it a little more cool, we declared them husband and wife at 9:26am…..
March 14, 2015 – Evening "Pi" wedding – Tracks
There were a big surprise in this wedding as Ko olina was forced to close down the beach access points behind the JW Marriott due to construction.   We ended up having the wedding a little more west at a beach unofficially called "Tracks" by the locals.
I wasn't hired to take photos for this wedding.  I only provided the minister, video, flowers, and wedding singer.  I did though, take a few shots here to document their wedding for my website.
March 20, 2015 – Sherwoods and then Waikiki!
My couple today tied the knot at Sherwoods beach.   We spend some time there taking a handful of photos then headed to Waikiki, as their reception was there.  Before their reception, we took some sunset photos on the beach.  That's where my coverage ended :)   Great couple…awesome time.
March 24, 2015 – Sherwoods Morning Wedding
Today's wedding was great.   I'm not a morning person, so when a couple who inquired for minister only services + simple coordination services, I gladly took the job!    God forbid I would have shot their wedding today as I was only surviving on three hours of sleep!  If I were taking their photos, I would have at least gotten another 3 hour of sleep.     I did though, take this one shot of their wedding from a distance!
If you notice in this wedding, the couples guest are split to the far left and right of the couple.  The videographer and photographer INSISTED that they stand this way during the ceremony so they could get their shots.    I will just say politely that I disagree with their opinion.  I would have put my foot down but unfortunately the photographers and videographers had veto power over my one vote.   They know the shots they want, and how to get it.  And in the end, the couple paid them to get their style of photography and video, not mine.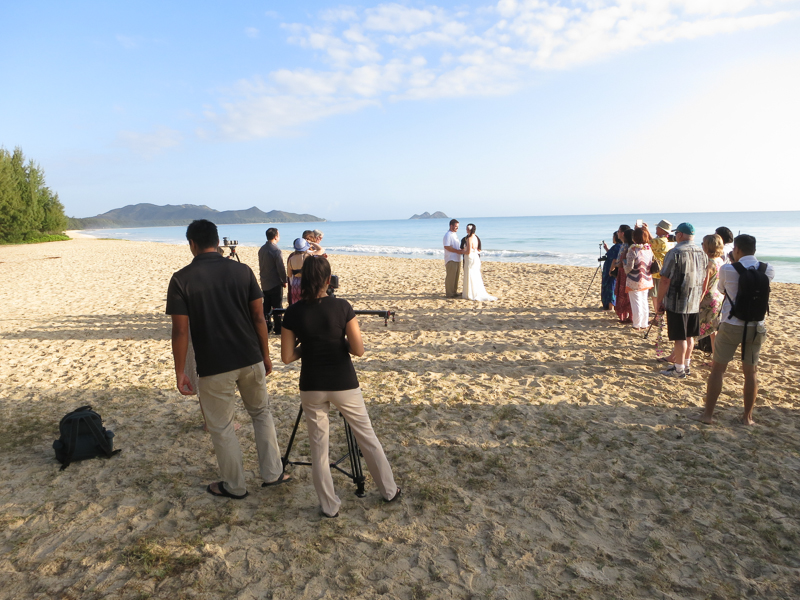 In my opinion, the guest should be a lot closer to the couple.  But the videographers and photographer insisted that they stand this way.
March 31, 2015 – Last one for March! – Ko'Olina The Cove at Paradise Cove Luau
This wedding ran late…real late….about 2 1/2 hours late.   It wasn't the couples fault, it wasn't mine, it wasn't the ministers.  Point the finger to the State of Hawaii who failed to perform routine maintenance on our zipperlane vehicle.  Our "Zipper," which is used to create contra-flow lanes on the freeway, malfunctioned at 9am, and the resulting failure cause our six lane freeway to be closed  down to two lanes during rush hour.  The result?  Well, a 40 minute drive to Ko olina from town turned into a traffic nightmare that took close to three hours.  For more information on the traffic click here.   I swear that traffic was hell.   To make the situation worse.  The State didn't inform motorist of it's misstep until it rush hour was into full effect.
The traffic jam forced me to switch into "Super Wedding Guy" mode.  Working my cell phone I scheduled another minister and moved our wedding to sunset.   To make a long story short.  Everything turned out well.  My clients had a beautiful romantic sunset wedding with awesome pictures.