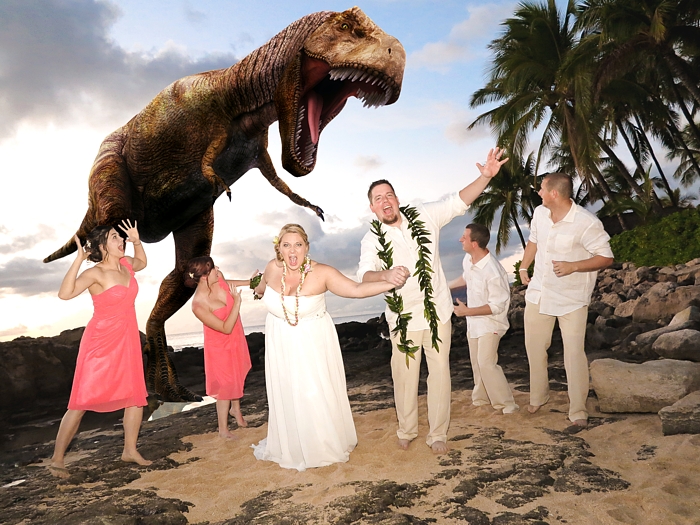 YES, IT'S FAKE!
Just to set the record straight, before anyone with a single digit IQ calls me up to ask me if there are dinosaurs in Oahu, let me clarify that yes, there are.  But they only bite if they're not fed well.  And they tend to not appear if you pay your wedding photographer/planner, who goes by the name of Steve Young, a lot of money.
The two photos pictured here are the first CGI (Computer Graphics Integrated) request I had ever gotten for a wedding.  Earlier this year, there was a wedding photo that went viral on the net of a couple running away from a dinosaur, and I was asked if I could recreate something like that.  I not only agreed, I told my couple I could do it better.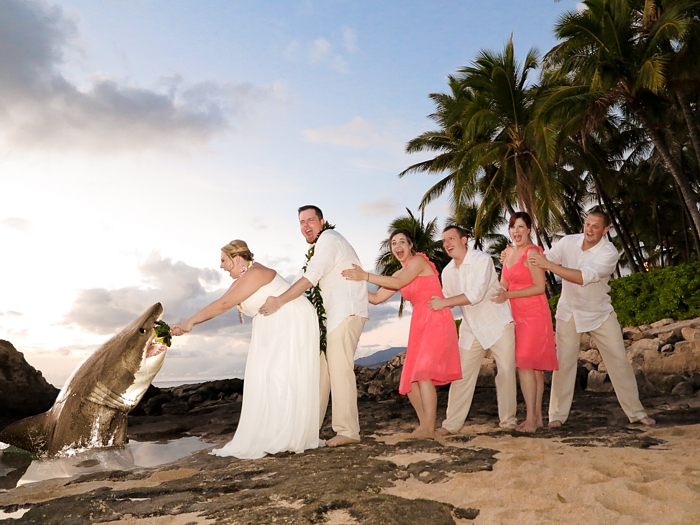 When it comes to computer graphics, the most common request I receive is to airbrush out a wrinkle or two in a few shots that they want enlarged.  Or I get a request to remove a zit on a nose.  Neither is not a problem, and the price per picture is not high at all.   There are also some brides who want to look skinnier in pictures.  Sometimes that is possible, sometimes it's not.  While it is true that anything is possible on a computer these days, it's also essential to understand that not all touch ups can be done convincingly.  Computer graphics is kinda like fake money.   When done well, the audience should not know that it is a a counterfeit.  If it looks fake, it shouldn't be done at all..
To incorporate any CGI into your wedding package, just let me know.  I don't have prices listed as they vary for each project.  They can be very cheap, and then they can get fairly expensive.  Just tell me your idea, and I can get you a price.