Hawaii Wedding Photography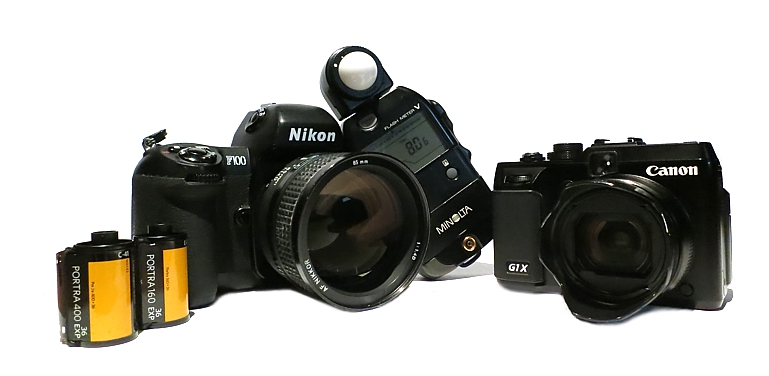 Here's the equipment that I use to capture weddings.
From left to right:  Portra Film 160 and 400, Nikon F100, Minolta V lightmeter, Canon Snapshot g1x
PHOTOGRAPHY OPTIONS
My company provides full service wedding planning services, but one of the main reasons why couples book with me is because they love my photos!  All of the photos that appear on my site are shot by me.  I'm actually a professional photographer believe it or not, and I actually teach this skill to many aspiring photographers as well!
PHOTOGRAPHY: HOURLY COVERAGE OPTIONS
There are two steps you'll need to take when calculating out your photography coverage:

1) The length of coverage needed
2) the amount of digital photos you'll want.

Please use this menu to choose the length of your coverage, then move onto the next menu, to choose the amount of pictures you want me to take.

| | |
| --- | --- |
| 1/2 HOUR COVERAGE- Used for family portrait sessions, extremely small weddings, and vow renewals, where only 20 or less quality pictures are needed to satisfy the client. | $125 |
| 1 HOUR COVERAGE- Used for most weddings the require EITHER blue sky, or sunset shots. The 1 hour coverage is enough time to capture your ceremony, family photos (if there are any), and a handful of posed pictures. | $250 |
| 1 1/2 HOUR COVERAGE - If you are looking for the best of both worlds, blue sky and sunset shots, this option may interest you. 1 1/2 covers everything in the 1 hour coverage package, and the extra time it takes to photograph great sunsets. | $375 |
| RECEPTION COVERAGE - This really varies. It's not as though I'll be taking pictures during your entire reception, so I can be rather flexible in hourly pricing here. | please call me. |
AMOUNT OF PICTURES YOU WANT
Some people love pictures, some people hate them. But I would say none of my customers hate taking pictures with me. In fact, grooms that are extremely uncomfortable in front of the camera, end up loving their photo experience! I just make it fun...laid back...hey what can I say?

I'm a nice guy.

The more pictures that I take, the more variation of shots you'll receive i.e. more poses, different backgrounds, etc..etc... Choose wisely. Most of my couples choose between 50 to 100 shots. You can go more, you can go less.
| | |
| --- | --- |
| DIGITAL PHOTOS/PRICE PER PICTURE - Each digital photo is exposure and color corrected to come close to matching the quality of film. Remember, quantity never equals quality. | $2.50 per picture |
| 75 DIGITAL PHOTOS - This amount will cover both the ceremony, family, and posed pictures. Exposure and color correction is included. | $187.50 |
| 100 DIGITAL PHOTOS - like the option above, but the 25 extra photos will give you more posed shots, in most cases, sunset photos | $250.00 |