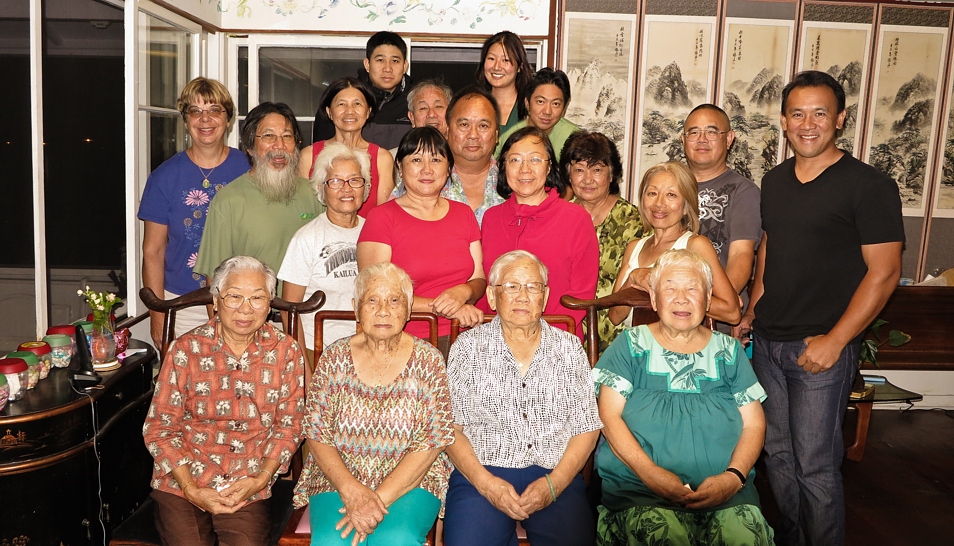 Guess which one is me?  The guy with the big head to the right in the black shirt.   This is my mom's side of the family in Hawaii.
ALL ABOUT ME!
Didn't they make a really cheesy movie called "It's all about Steve?"  It wasn't about a former screenwriter, wannabe NFL athlete, turned wedding planner right?   Of course not!  I heard that movie bombed.  If it were about me, I don't think it would have bombed.. as much….So who am I?  The man.  The mystery.  The legend?   Steve Young is the name, and apparently wedding planning is my game!
Now, I can tell you that wedding planning isn't something a straight-man aspires to get into from high school.  When I was a kid, I think I wanted to play in the NFL, write a movie, and spread world peace, and to not plan weddings.    I got my start in the wedding industry about 20 years ago as an "owner" in another production company that I owned.  That company, Canoe Girl Productions, did everything from: promoting concerts, to creating shirts for the University of Hawaii, websites for companies, commercials for hotels, and photographing weddings.  Those were very fun times as my young team of artist could do anything.  We also had a knack of biting off more than we could chew and wasting a lot of money…hahaha.   Back up a few years before Canoe Girl Productions, I was actually a failed aspiring screenwriter in Hollywood (that's an another story worth talking about later!)
If you want to back up before that….I was in high school, sleeping in class, and studying hard for my cumulative GPA of 2.2.  (wow, high school!  another vailed venture! haha)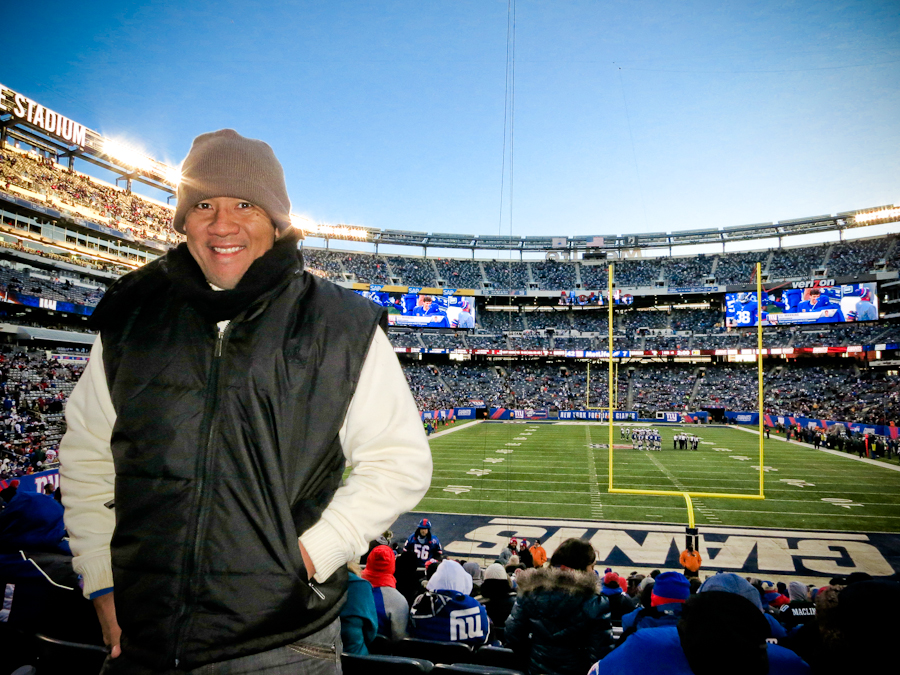 Me at the New York Giants Met Life Stadium.  I'M NOT A GIANTS FAN!  I bleed green.  I'm an Eagles Fan baby!
That's the Eagles playing the Giants, by the way!
MY PHILOSOPHY OF WEDDING PLANNING
In my opinion, wedding planning is simply "glorified order taking."  A bride comes to me with what she wants.  My job is to deliver to her the best her money can buy, and to deliver it to her, on-time with the utmost professionalism.  Basically, it's the same philosophy I had in high school where I would pay the smarter and brighter kids to do all the work.  Like weddings, we pay the smarter, better people who can build cakes, make bouquets, cook, and so forth to do the things we can't.  Now while that philosophy didn't work well in school, in the real world, it works perfectly.  Of course, there is much more than just hiring out the right vendors for your wedding, there's everything from choosing the right venue for your wedding, to discussions about what type of hairstyle works best in certain wind conditions, and much much more.
So maybe on the surface wedding planning is "glorified order taking," but then again…it could be like a small scale movie production… hmm….
THE REASON WHY I GOT INTO WEDDING PLANNING
I would have to say it was to pay the bills and to make money.  Does that sound bad?  When I left my aspiring screenwriting career, I had a plethora of talent that was useful in the movie industry, fashion industry, and marketing.  But I really didn't want to work in an environment filled with smug.  So I opted to dive into the wedding industry.  It was the one place where people appreciated my honesty, my point of view, and was more than willing to pay for the quality of my work.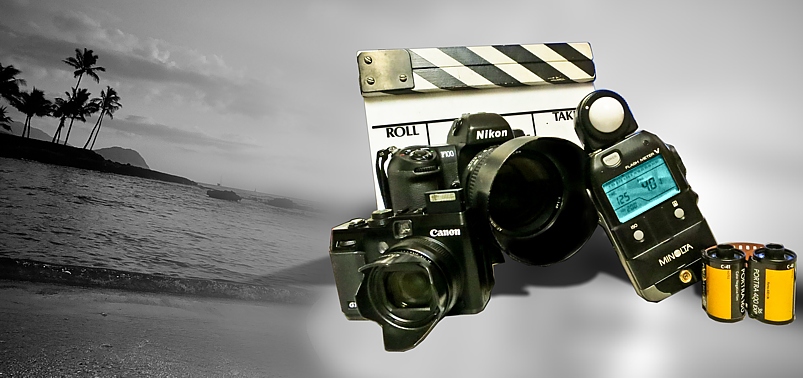 Just some of the tools of my trade.  Yes, I still shoot on film when requested. 
PHOTOGRAPHY AND VIDEOGRAPHY
Photography and video are the two elements that I still handle "in-house."  I do a lot of the photography around here, and I also train them too.  The reason I handle photos in house is  so I can provide to you, my paying customer, the assurance that you will get the quality you see on my website.   Many companies post beautiful wedding pictures by photographers which they don't have a constant access to.
OTHER STUFF YOU WANT TO KNOW?
Hmmm….well, I'm the only kid in my family.  I can say I'm a little spoiled, not much though.   I'm a HUGE Philadelphia Eagles fan.  Huge.  Love to play football, watch football, so don't call on Superbowl Sunday…I'm serious!   I'm addicted to the news.  I'm politically a conservative.  Love low taxes, small government.  Hey what can I say, I'm a businessman.   Wanna learn more about me?  Add me to facebook as a friend by clicking here: