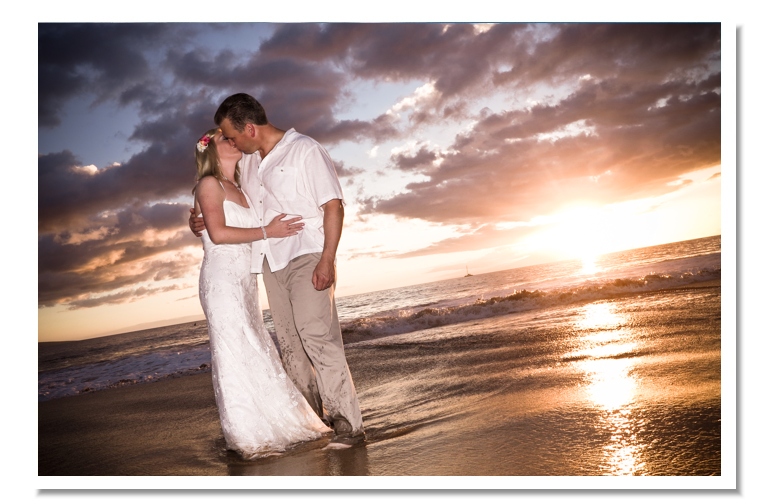 Taken at Po'olenalena beach in Maui at sunset. Take a look at the Ocean here. It's only a few inches deep for 30 yards.
This is very unique and makes for great pictures (and wet shoes.)
MAUI WEDDING PACKAGE
I'm based on Oahu, but I love traveling to Maui to plan and shoot weddings. Why? Well, it's because I'm a doughnut freak and on Maui, the  THE ONLY KRISPY KREME in the State of Hawaii is located there. Upon landing in Maui, before my wedding, I eat two donuts; and before take off, I eat two more! The most popular beach to get married on Maui is Makena Cove. But my favorite beach has to be Po'olenalena Beach for its photographic qualities
Here is a behind-the-scenes look at one of my recent Weddings
To keep things simple, I created one package for my Maui couples. It includes ministry, digital photo, video, flower services, and travel for me to Maui. The great thing about Maui is that I found a great minister there that I can use, so I don't have to fly my minister there, making things a little more affordable if you want to use me for your wedding.  If this package doesn't fit your needs, let me know and I can customize that something that fits. There's a lot of goodies in this package. I thought, if a couple is going spend money to fly me to Maui to plan and capture their wedding as professional Maui photographer, they might as well get full coverage right?
This is an example of the video that is included my Maui Wedding Package.
MAUI WEDDING PACKAGE
MAUI  MINISTER – The charge for the minister in Maui is a little more expensive than my ministers in Maui. It's because everything in Maui is more expensive.  Actually, who am I kidding?  They really charge more than Oahu ministers.
PHOTOGRAPHY 1 1/2 HOUR – photography for your ceremony, family, posed pictures ranging from blue skies to sunset by Maui photographer
75 DIGITAL PHOTOS – High-resolution, printable up to 20×30, exposure and color corrected/enhanced.
3 CAMERA VIDEO COVERAGE –  HD video ceremony coverage of your wedding, wireless mics, edited.  Includes 2 slideshows, beginning and end. This line item is equivalent to the purchase of the 1 Camera Video Coverage plus Video Edit Upgrade.
TEA LEAF MAILE LEI – handmade lei for the groom made out of tea leafs. Beefy in looks, unlike the tourist tea leaf maile leis. It last forever!
FLOWER LEI, CUSTOM – handmade flower lei, can possibly be made to match your color scheme.
TRAVEL CHARGE TO MAUI – My Maui travel charge is included with this package and it covers my airfare, car rental, and gas, for the trip. No charge for the minister, because he resides in Maui!
 estimated – $1875.50
(price is subject to change because travel prices go up and down)
CUSTOMIZED PACKAGE?
My Maui Wedding Package is just my idea of what you may need for your wedding. Maybe you want something more, maybe you want something less. Maybe you just want me to photograph your wedding? If you need something other than my package, just ask :)