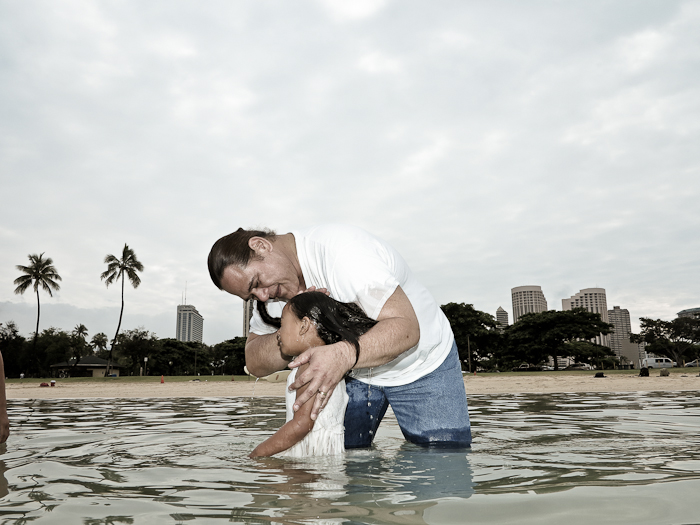 Three kids got baptized.  This was number one.
BAPTISM BY OCEAN
Yesterday, November 15th, 2013, my company had the great opportunity to baptize three children into the waters of the Pacific Ocean, right off the coast of Magic Island on Oahu.  Reverend Elias Parker performed the baptism and did an awesome job.   If he looks familiar it's because he is the same minister who also performs 90% of all of my wedding ceremonies.  Elias is a Hawaiian Christian minister who does not preach in a church.  "The world is my church", he reminds me.  But because Reverend Elias is not associated with a church, water baptisms performed by him do not result in a child belonging to a specific church or religious organization.  Something many cherish.
Our company is a obviously a wedding company.  But because every now and then we sometimes get asked to step outside our wedding box to perform other services.  We've done a lot of things, from photographing real estate to producing television commercials, and now apparently, water baptisms.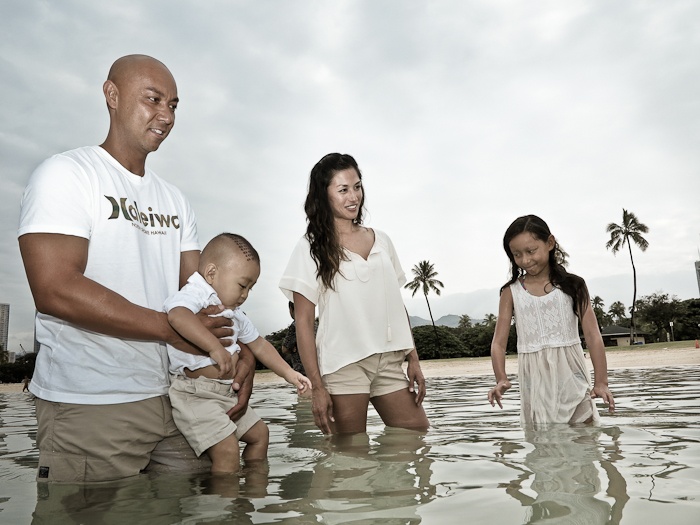 Parents watch on as number 2 gets baptized.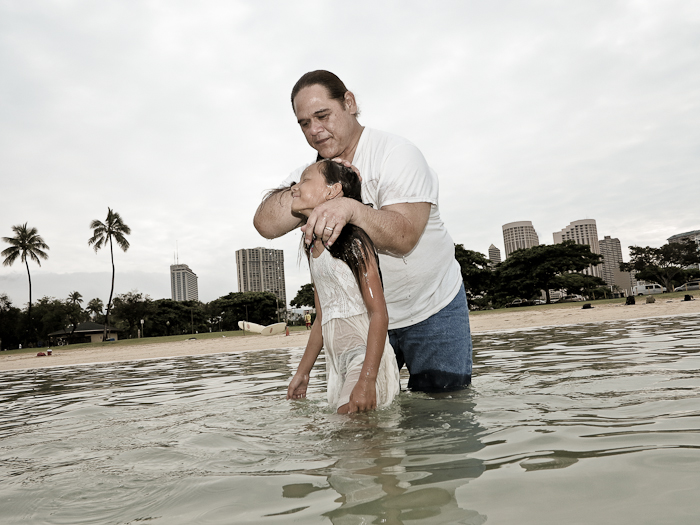 Baptized child number 2!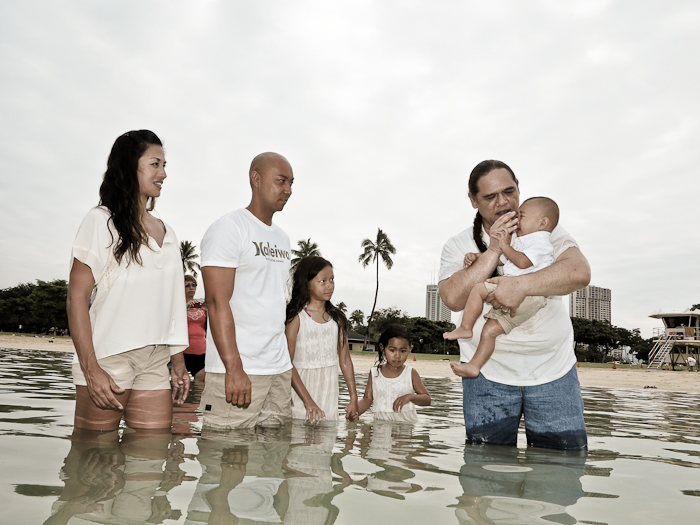 And now for number 3
Elias works extremely well with kids, and this truly was demonstrated during yesterdays baptism.  His knowledge of children, especially when it came to the safety of dunking a baby underwater, was quite amazing.   He told me that when turning a baby onto its side, they have a tendency to close their mouth.  So when he did this to the baby and it closed its mouth,  he quickly baptized him.  He then blew air into the baby's face so the baby would open it's eyes and mouth after he reemerged the child from the ocean.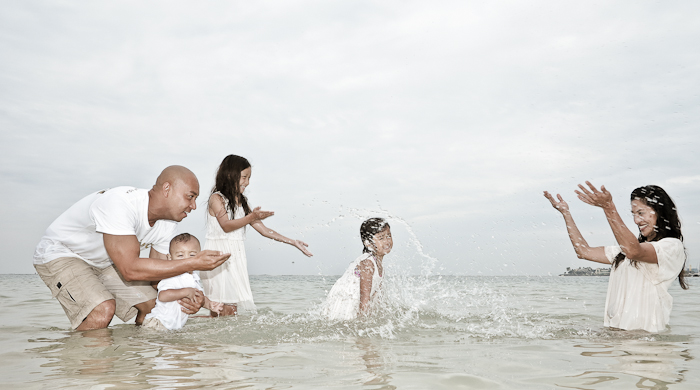 After the baptism was over, now it was time for mom to get drenched.
The parents of the children are great clients of my company.  Upon every visit to Hawaii, they do something special.  Earlier this year, their parents go their vows renewed, and they had family portraits taken.   Their entire family loves Oahu as their entire are confessed "surf-aholics."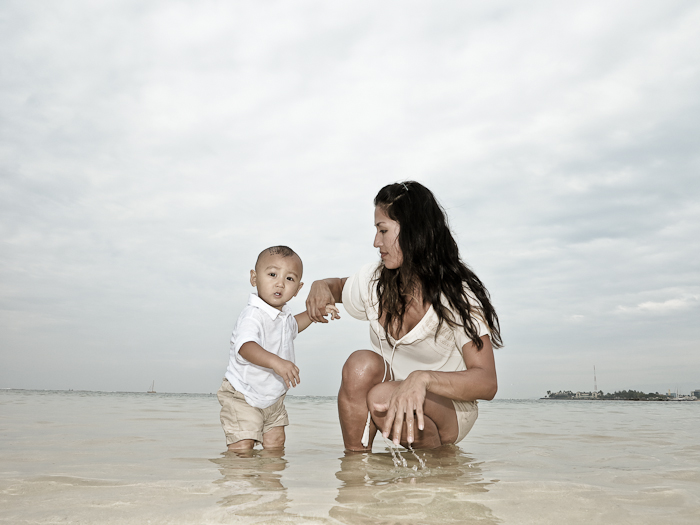 Mom and son.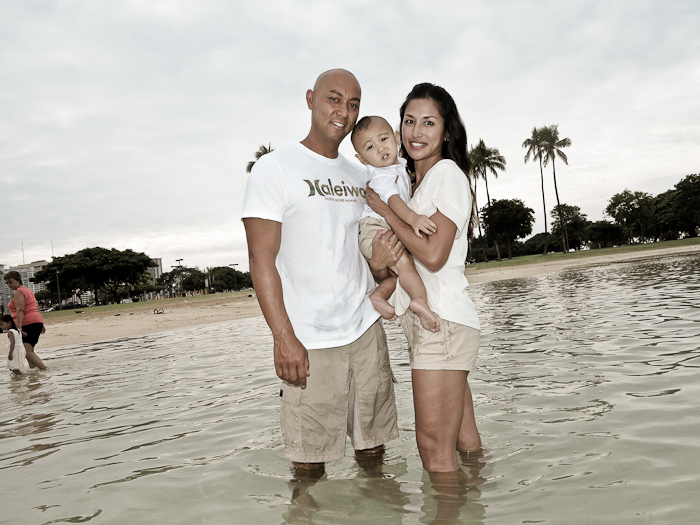 I thought about editing those people out in the background, but I didn't.  That's their mom and their daughter.  So this candid photo works.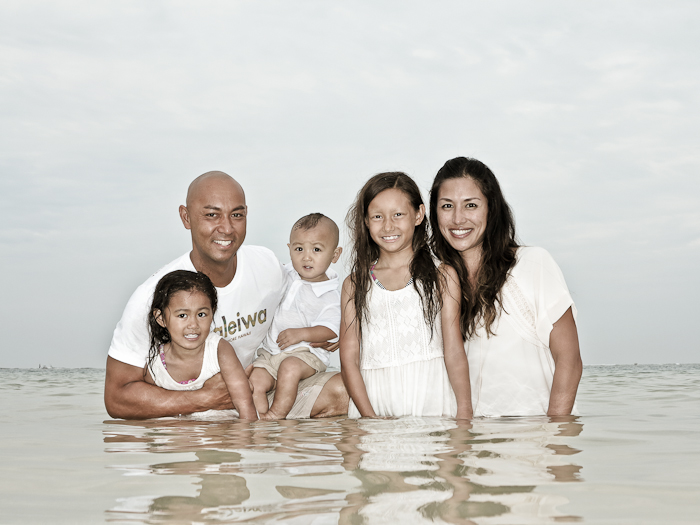 Family photo!
The cost for a package like this varies.   Basically, you're hiring us for a ministry service, and a small photography package.  It's important to note here that you have full freedom to customize this package.   You can add more photos, delete photography services altogether, add leis, etc..etc…
| | |
| --- | --- |
| Ministry Services: Ministry service is similar to those you'll find at our wedddings. We can customize this however you wish. | $175 |
| Small Photography Package: 1/2 Hour labor charge | $125 |
| 20 Digital Photographs at $2.50 per photo | $50 |
| TOTAL COST: | $350 |