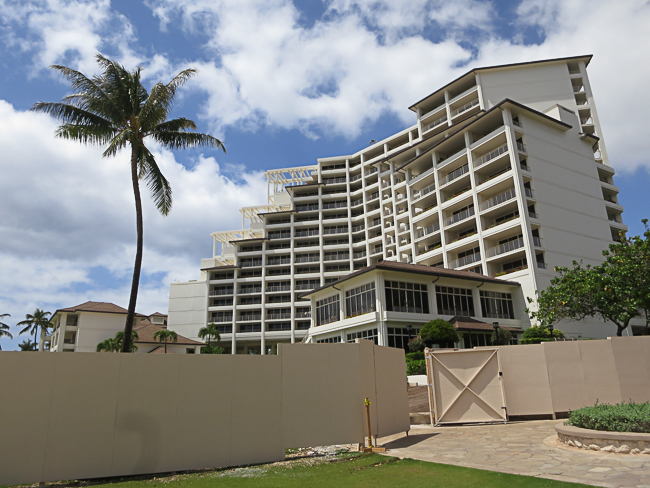 The JW Marriott Ihilani is under major renovation.
One of my favorite wedding locations located behind the JW Marriott is temporarily closed. The location is known as "Secret Beach" by many wedding companies.  I routinely called it "Anianikou" or sometimes "Lanikuhonua" as that's what it was known by the locals.   The main public beach access to this location was situated behind the JW Marriott.  That access point is closed due to major construction on the JW Marriott Ihilani.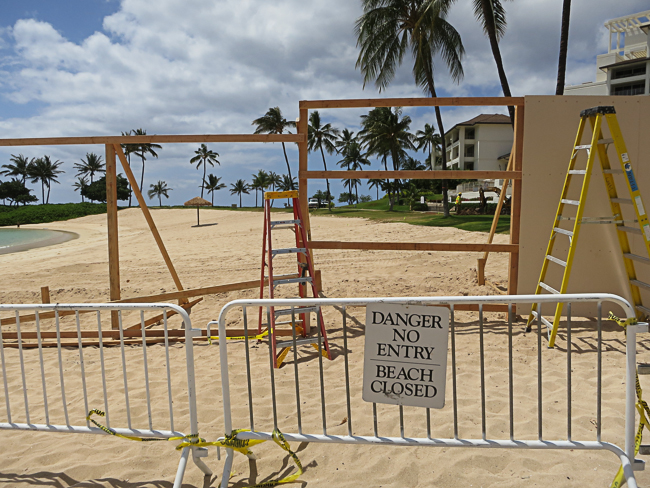 So close and yet so far…
HOPE IS NOT OVER! There are definitely alternatives entrances to this location, but they are a bit challenging.   In order to get to this location you're going to have to skip over a few rock walls and walk a length of a sandy cove.  It's not that bad, but in a wedding dress, it could prove to me quite challenging.  If you have elderly guest, or anyone with a walking disability, you can forget about them making it there.   The good thing… the cove should be pretty empty given that most tourist will not know that anything exist on other side of this fence.
If you are want a little adventure to get to your wedding location, just let me know.  We're game!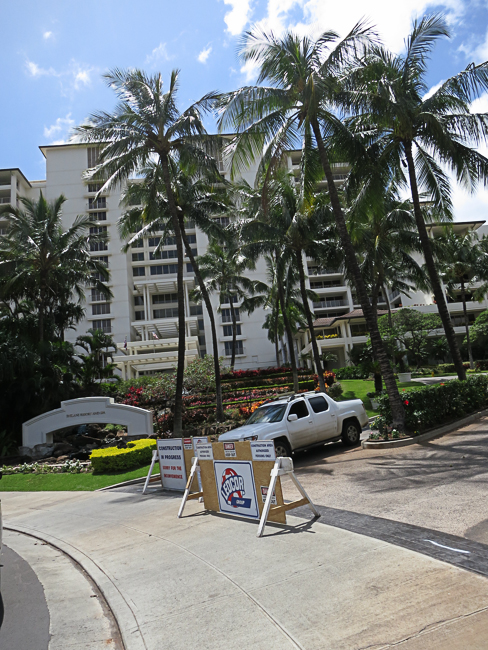 JW Marriott will reemerge as a Four Seasons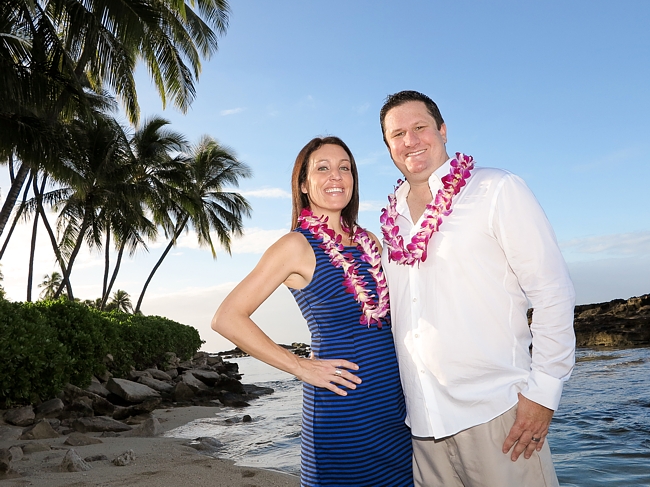 ALTERNATIVE COVE! The Cove at Paradise Cove.  Photo taken in the morning, so evening light will be a bit better.
What are the alternatives to Ko'olina?  I have more than a few in mind.   Pretty good ones actually.  The best thing about Ko Olina was that it was on a resort.  That meant that the bathrooms there were cleaner than public restrooms, there were hotels, places to dine, places to shop.  Most importantly, it was great for sunsets, and great for palm tree shots.  The locations listed below are all great for sunsets, but only the Paradise Cove choice will include palm trees.
1)  THE COVE AT PARADISE COVE – I had to phrase that one correctly. I could just call it Paradise Cove, but the Luau is called Paradise Cove.    This beach is located on the Ko Olina resort and it's right front of Paradise Cove Luau.  It's great for photos, and I can pretty much get close to the same photos I can at my original location.  The catch 22 is that it can get very crowded on holidays and weekends.
2)  TRACKS BEACH – Tracks beach is located 5 minutes west of Ko Olina.   It's a great beach for weekdays, but not weekends.   It's really not a beach you should consider for the weekends.  Plus, there are no palm trees there unfortunately.
3)  MAKAHA BEACH – I really love Makaha.   The beach there is pretty awesome.  There are no palm trees, but it's right up against a mountain.  And the sunset…the sunset is awesome.   To view pictures of that place, click here  The catch 22 about that place is that it's a far drive from Waikiki and it's not that empty on weekends.  If your wedding is on a weekend, you may want to consider heading to the North Shore.
4)  HEAD NORTH TO PUPUKEA – Dumping the idea of a wedding on the west shore altogether and heading to the North Shore may be something to consider.  The only crappy thing?  The drive back to Waikiki after you get married.  It'll be about a 1 hour 10 minute drive.  The great thing, probably the best thing?  This beach, even on the weekends, is empty.
I am not sure how long the entrance to the beach will remained closed.  I do know that construction on the JW Marriott is slated to take a LONG while.   I'm thinking, late November 2015, the beach will reopen.  If it reopens earlier, I will let you know.