KAYLA'S WEDDING!
This one was a new one for me!  Two years ago, our company married Tracy, Kayla's mother.  At the conclusion of Tracy's wedding, a planned surprise proposal by Dustin took place.  Because everyone was in on the surprise, other than Kayla, we were able to videotape the proposal perfectly.  About a year after Kayla's proposal was proposed to, she contacted us to plan her Hawaii wedding.  She wanted Elias, the same minister that her mother used, and a package that was very similar.  The only difference, that I suggested, that she get married at a different location than her mom.   Kayla agreed and she decided to tie the knot on the North Shore.  One more year later, she got married!
This would be the first time we had ever planned a mother's wedding, and then had the honor of doing the same for her daughter.
Every wedding is not without their hiccups, and Kayla's wedding was no exception.  Kayla got a little lost on the way to the wedding location, even though she had paid a visit to the location earlier in the week.  She was also running a little late because the police had closed down the freeway due to a major accident.   Dustin though, her fiance, arrived right on time, actually a bit early.  By the time we started the wedding, the sun was maybe one hour from setting.  To make things a little more complicated, a small storm front had moved in, and there was a slight threat of rain.
The solution?  To not panic, and to work fast when possible.
When weddings run a little late, we "rush" where we can.  NEVER, do we rush the ceremony, as that is probably the most important portion of the day.   After the ceremony though, everything goes from "easy going" to "mach 1."   In Kayla's case, not only were we chasing light, but also running away from a storm.
This is Kayla's wedding video.  It's unlike other wedding videos as it actually contains actually footage of their wedding proposal, two years before their ceremony.  I archive all of my wedding footage, so finding the footage was not really a problem.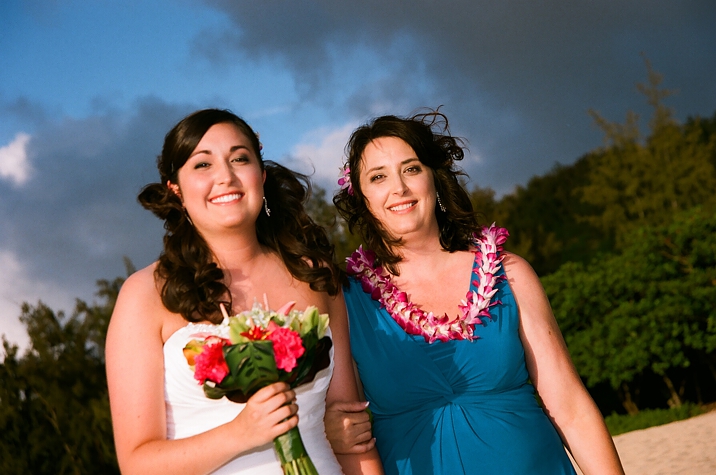 Kayla on the left, her mom Tracy on the right.  As you can see, it was a little windy!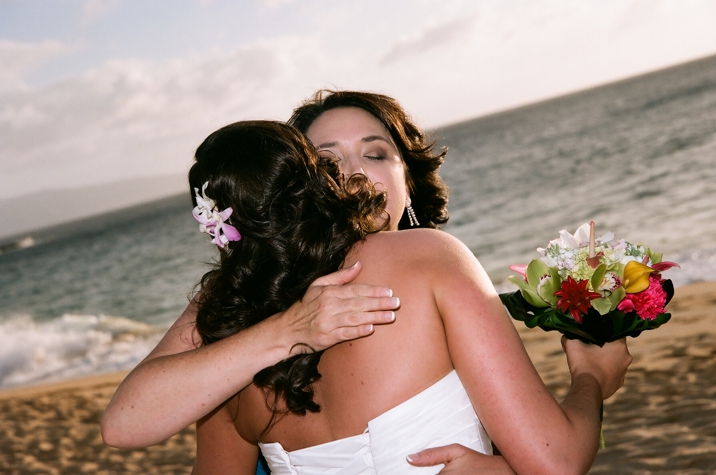 So how would you caption this?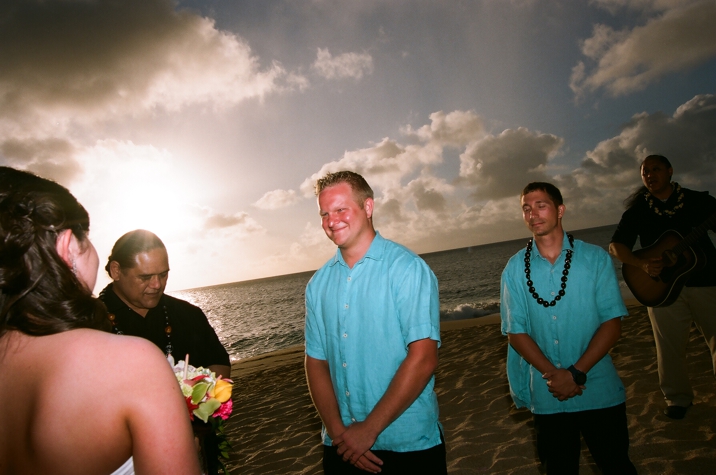 Dustin's first look at his future wife.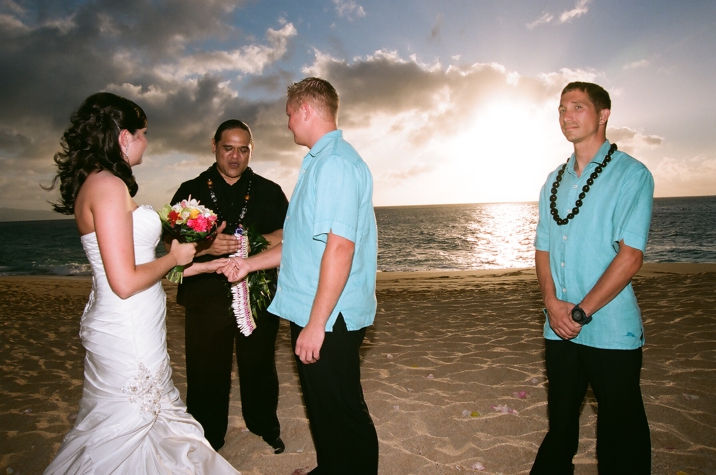 As you can see, that sun is coming down fast.  We usually start our wedding ceremonies about 2 hours before sunset, so we have more than enough time for blue sky and sunset shots.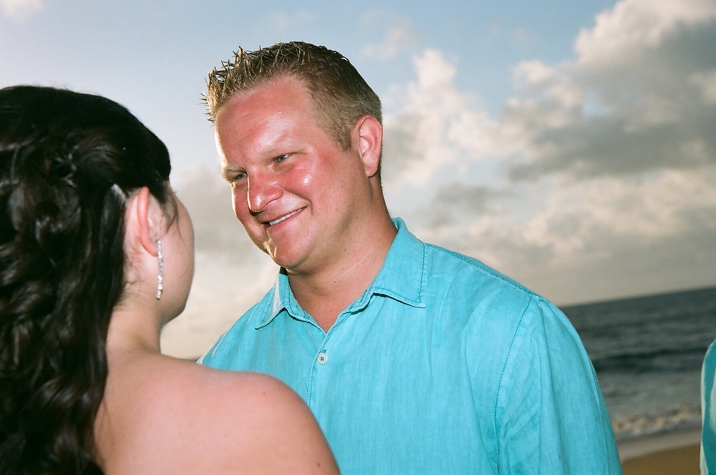 During the vows!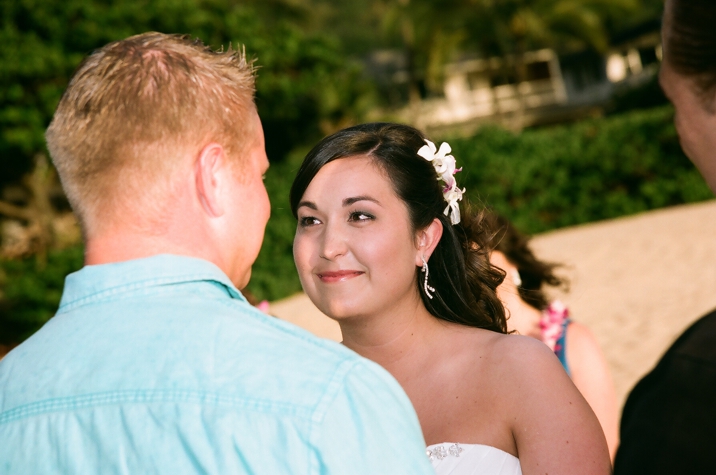 More vow shots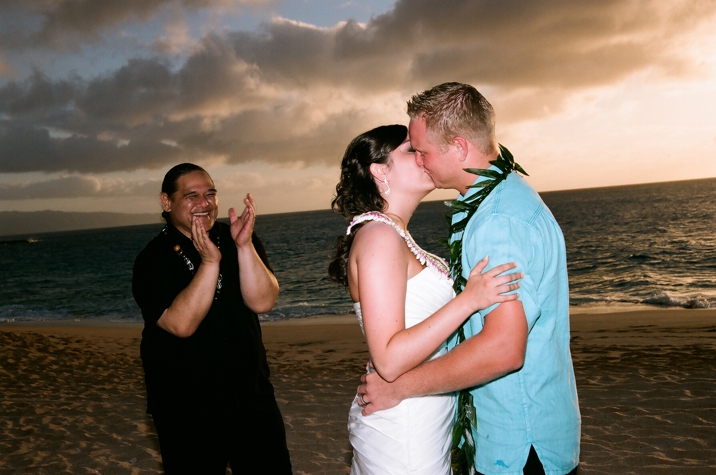 First kiss as husband and wife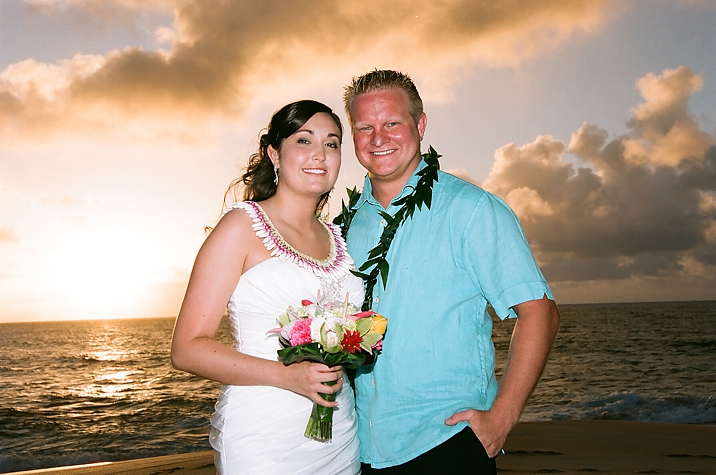 The standard, "prom-like-non-cheesy-sunset-shot"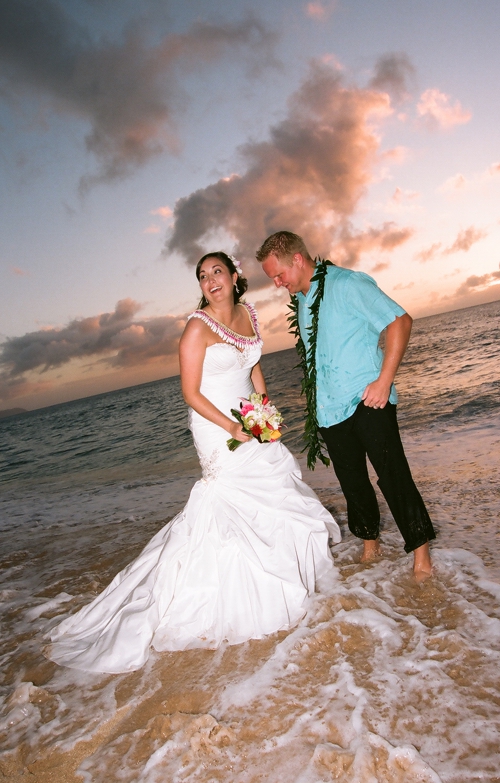 Well that wave came out of nowhere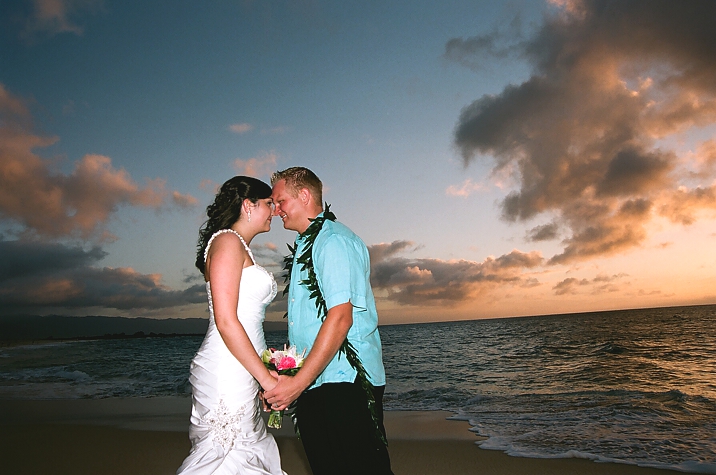 They have a Hawaiian tradition called He'alo He'alo.  It literally means face-to-face.   Hawaiians believe that life first starts with the sharing of a breath.  Pretty cool for the ceremony, and also pretty cool for pictures.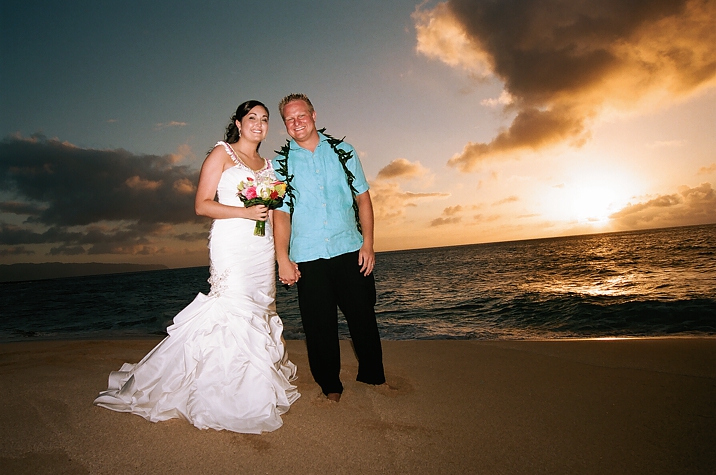 Walking on the beach at Pupukea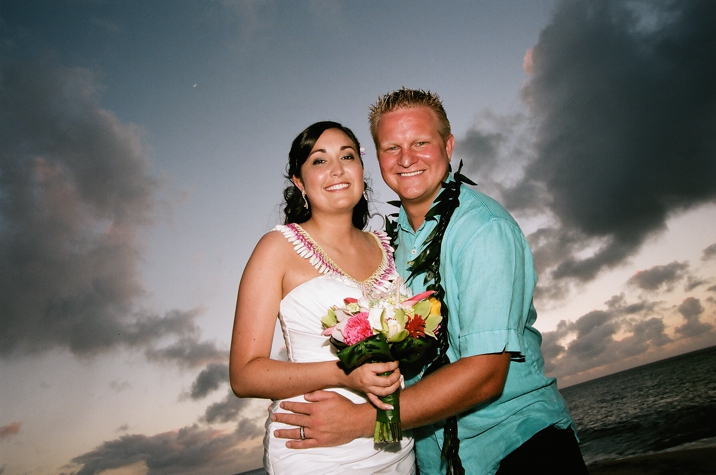 So that little spec to the left is not dust on my lens, but the actual moon.  I was going to eliminate it from the picture digitally, but left it in because if they enlarge this photo, you can see it much clearer.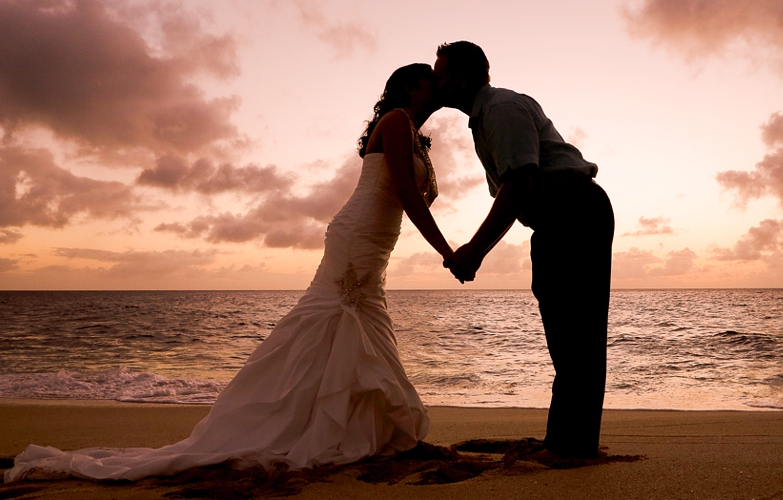 This is the "I promise I'm not gay pose."   It's a very awkward pose for the groom.  It looks horrible if I use a flash, but very cool if it's a silhouette.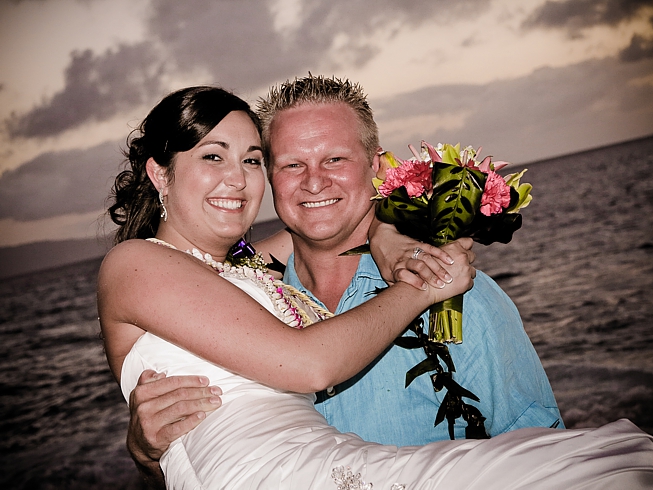 At this point in time, the sun has completely vanished.   So I whipped out my trusty digital camera.   Digital exceeds film in on area.  Low light.  You can obtain ISO's that are completely unreal, and still come out with very printable pictures.
Group shot at twilight!   I shot family shots after I was done with Kayla and Dustin.  Family and group shots were the last to go because we were running out of light.  They usually are taken right after the ceremony.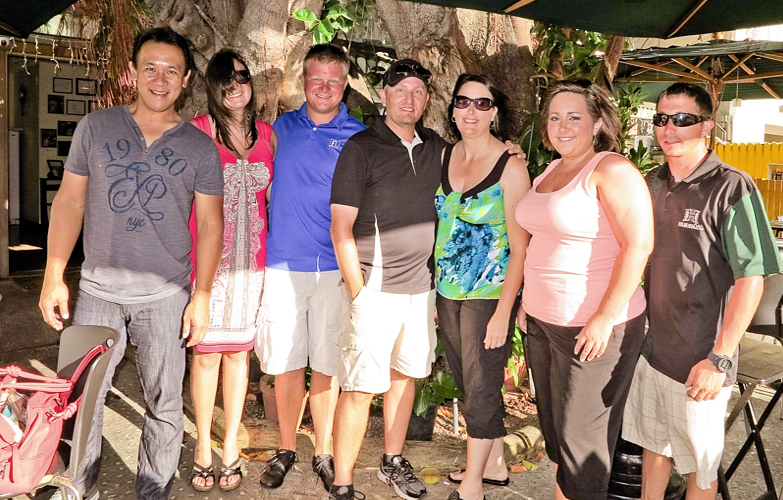 Two days later, at lunch!
Dustin and Kayla decided to purchase a package that composed mostly of film photography.  Film is a rather unique medium as it looks good on the web, but REALLY AWESOME when printed out.  Your computer monitor does not do some of these pictures justice.  When enlarged, and printed on metallic paper, all I can say is "wow."   A few days after Kayla's wedding, I had the pleasure of introducing the happily married couple and their family to the wonders of Korean food.   These former clients, have now become very cool friends, and stay in touch with me via facebook.