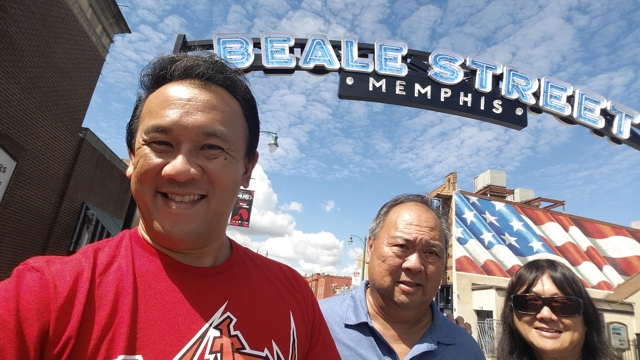 Look at my round face!  Fat from all that BBQ!
Two weeks, five States, two college football games, BBQ ribs, and 17 pounds later – Now that's a vacation!
I'm not sure when is the last time I took a vacation.  You know this probably better than I do, but a "trip slash vacation" that had absolutely NOTHING to do with business.  Every recent trip that I've taken, there was always some business reason to travel, some excuse to write it off.  Whether it was to do a wedding, check out an investment, or to attend some type of conference/expo.
For this trip, the only thing on my agenda was to watch my first SEC game and to get extremely fat eating BBQ ribs!  I had a blast.
No wonder people take vacations.  LIGHT BULB!
The idea for this vaycay started a few months ago when my father suggested we watch the Ole Miss – Bama SEC game because the two starting quarterbacks were from Hawaii.  Tua Tagovailoa and Jordan Ta'amu were born and raised in the State of Hawaii and on our island of Oahu.  This was a once in a lifetime opportunity because two Hawaii QB's never faced off in an SEC football showdown; and in my opinion, both quarterbacks were NFL caliber.   So for the first time in my life, I blocked off two weeks in September and turned down weddings, to make this happen.   My deepest apologies to all my couples who wanted to hire me!
The crazy thing about this trip was that about two months before I left for my trip I received a wedding inquiry from a couple, Rick and Pat, who wanted to hire me.  To add icing on the cake, they were huge Eagle fans and lived in Memphis, the city where we would be staying in!  To add icing on top of the icing, Rick lived on Oahu during a portion of his life and loved it.  Of course, we had to meet up for dinner!  It was written in the stars.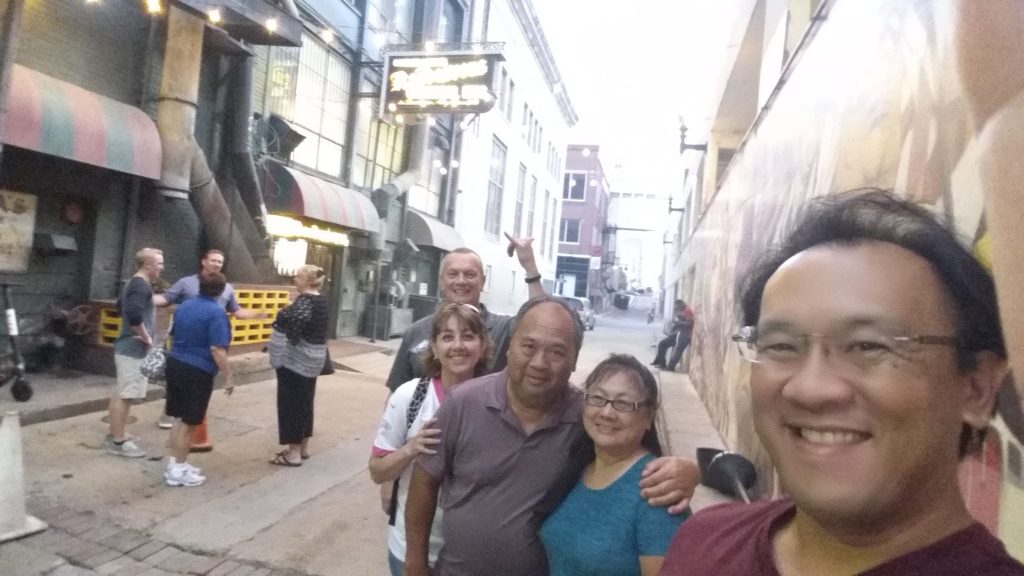 From Right to Left: Rick, Patricia, My Dad, Mom, then me (the guy with the big head)  Outside the famous Rendezvous!
To sum up my entire trip, it was the blast.  I would have to say it was one of the best trips I've taken in my short life.   Without further delay, here are some highlights from my trip in bullet point format.  I thought it would be easier to read that way.
MEETING RICK AND PATRICIA
Shortly before I arrived in Memphis, Rick and Patricia, tied the knot.  That, of course, meant plans of getting married in Hawaii were off.  But that didn't mean plans of meeting new friends, especially Eagle fans who had Hawaii ties, were off.   We all met at the famous Rendevous BBQ for dinner then headed over to the Peabody for dessert.  Truly one of the highlights of my trip!
VISITING GRACELAND
I'm not a big Elvis fan, but I do like his music and it seems I can't get away from him.

When I was in my mid 20's, my production company promoted a touring concert in Hawaii called the 3 Face of Elvis that featured the actual Jordanaires (his backup singers).

That place is huge, way bigger than any Presidential library

Like a presidential library, they give you an audio tour when you walk through Elvis' house.

My parents and I paid for the $75 tour, but accidentally walked through the wrong stanchions and got the HUGE package tour instead – for free!  Talk about score!
BEALE STREET
This is the home of Rock-N-Roll and it's a lot smaller than I thought!
The music there is awesome.

I'm not much into the Blues, so I don't think I could appreciate it as much as I should have.  But the talent there is undeniably good.  There was a guy in Jerry Lewis' Restaurant that could really play.  Holy cowabunga was he great.

The food was not as good as the music

We went to a place called The Pig On Beale and the food was not that memorable at all.
I had a shake from a classic toy store called A. Schwab on Beale Street.   It was just like something I could have made at home.  I think McDonald's makes better shakes.
There was an award-winning gumbo place called Kings Palace Cafe that was apparently supposed to be so good, they were banned from competing.  It was good.   But good enough to be banned from competing?   Really?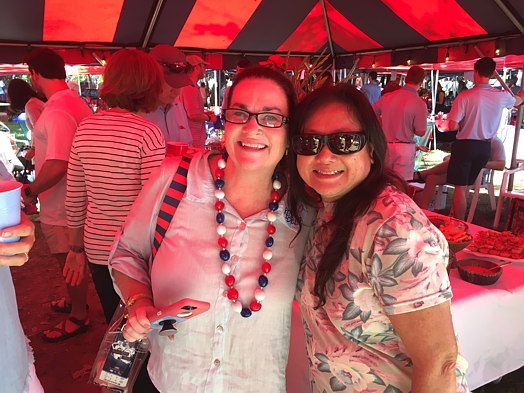 Above: This great woman invited us into her tent a few minutes after we stepped into the Grove
Below: Great Sorority gals who took the time to chat with us and to tell me how to get the lei to Jordan Ta'amu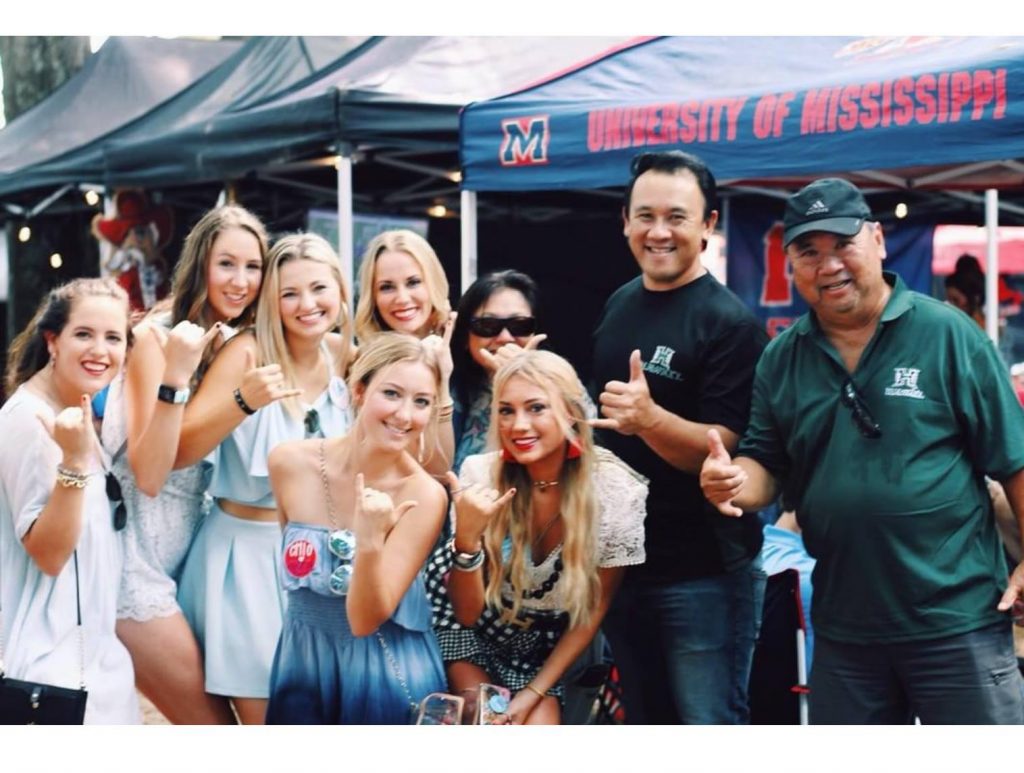 OXFORD, MISSISSIPPI – OLE MISS vs. ALABAMA GAME!
The people in this little town are amazing. So far, they are the nicest people I've ever met on the planet.

Southern Hospitality is real

We were stopped in Wal-Mart and had a great conversation with an Ole Miss professor about life, football, and life in Oxford
We were invited into so many tents at "The Grove" it was unbelievable.   We were offered food, drinks.  The best part, meeting the Ole Miss fans.  They are the greatest
We actually got to meet a student who spent a short time living on Oahu.

I brought a handful of Kukui Nut Leis and reserved one for Jordan Ta'amu and one for Tua Taivailoa.

I was able to give all my leis away to everyone I wanted, including Jordan Ta'amu.  Well everyone except Tua.
I only brought 5 leis with me.  I should have brought a 100.

The game was a bust.  Ole Miss only scored one touchdown while Alabama ran up the scoreboard.  That really sucked.  That one TD play was a beautiful pass, though

I'm definitely now an Ole Miss fan!

I cannot talk about the weather.  Holy smokes is it HUMID!  It's way more humid than Hawaii.  Still, this is a town I wouldn't mind moving too because it's that great.

Lambert's Cafe!  If you want a bun, put your hand up!
FOOD AND MORE FOOD
Best place I ate on the trip was a place called Lambert's.  Not only was the food awesome but the atmosphere was super fun.  They throw buns to you, have cool kids walking around to fill you up on side-orders.  It was just really cool.  If you haven't gone, you should make it a point to take a roadtrip there.
We had breakfast in Oxford at a place called Big Bad Breakfast.  The wait is long, but it's worth it!  The food is awesome
Memphis BBQ – I went to all the popular places: Rendevous, Central BBQ, etc..etc..  Memphis BBQ is a bit tangy and most was average at best.  The best Memphis BBQ was at the airport at a place called Jim Neely's Interstate BBQ  They have their original location at the link I provided.  They are really good.
Elvis' famous Peanut Butter Banana Sandwich – It's okay but awesome?   I don't see how it was one of Elvis' favorite snacks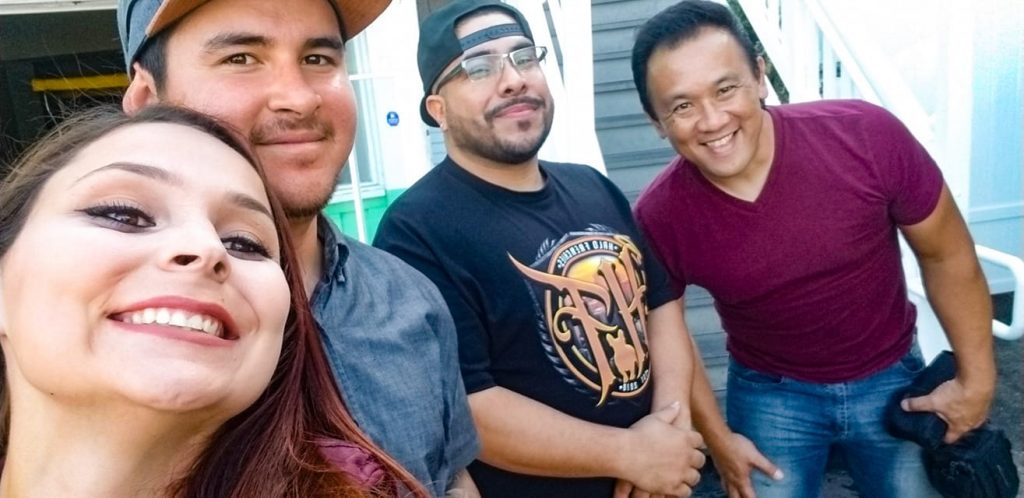 Friends in Cali.  From left to right: Erika, Andrew, Beto, and me.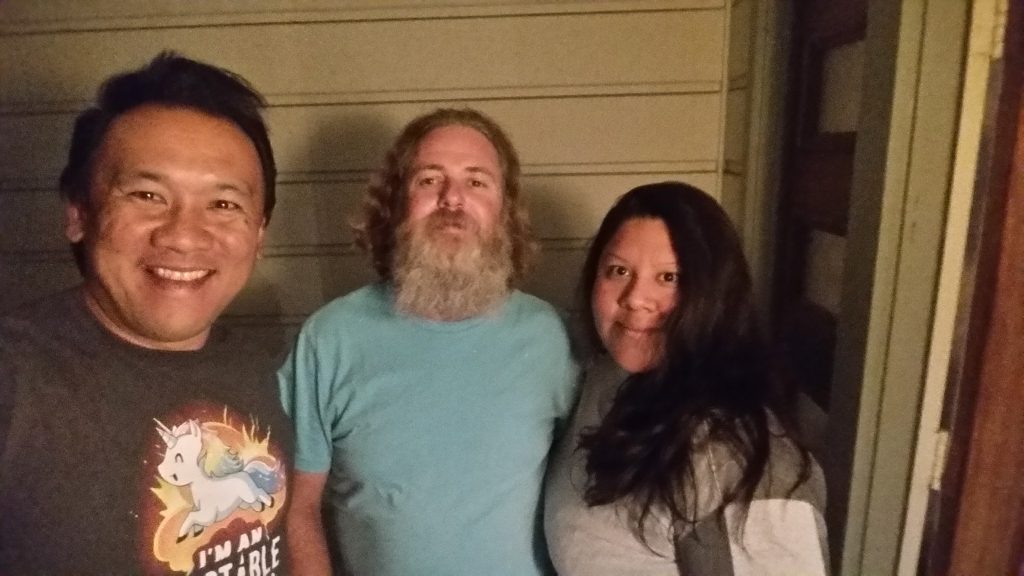 My longtime friend Chad and his girlfriend.   When I lived in California, he was one of the few true friends I had.
When he vacationed here in Hawaii he helped me with a handful of weddings.
FINAL NOTES
After spending a week in the south I headed over to California to catch up with family and friends.  I didn't really visit any tourist sites, just spent time catching up.

My dad and I did go to a USC game!  That was awesome.   My cousin Brenton and his wife, Sarah are one of the most generous personalities I know.  He belongs in the South, maybe Oxford, not California!
I biked in California as well!  The bike paths there are incredible
My friend Chad looks like Jesus now (check out the pictures below)
Beto was a kid who lived next door when I was a struggling writer in Cali.  He's now an awesome grown man.
Erica, Beto's younger sister, was just a baby.  She's now a young woman who serves in the military who is on her way.
I wish I had a long time to spend there.  I just couldn't fit everyone in.  Sorry to those who I couldn't meet.

Yes, I did gain 17 pounds!  Anything that didn't move I ate!  I'm currently working it all off!  You can see my face getting rounder and rounder! haha.
I love vacationing!  No wonder people do it!  Can't wait for my next one!   I love doing absolutely nothing!
It's good to be back home.  After vacationing everywhere, I can see why people love to live on Oahu.   Even though we live on an island, there are so many things to do here, compared to other cities.  It's not as though you can't do a lot of things on the mainland.  It's just that here on Oahu you don't have to drive hours to do something unique.  I love the mainland, but you need to do a lot of driving.   Plus, our weather is great.  The humidity in the south can be killers!