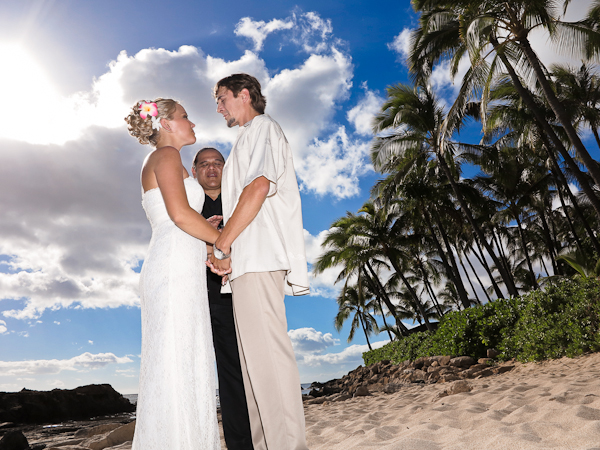 During the ceremony
Just a Little Hawaii Magic Happening Here
Bryan and Veronica tied the knot at a small cove situated behind the JW Marriott Hotel on the West Shore.   The cove is free to use, and not property of the hotel or the resort.  I do about 50% of my weddings here as the location is not too far away from Waikiki, and rather perfect for sunset photos.  Since the opening of the Disney Aulani, this location has gotten a little more crowded, but is nothing like the crowded beaches of Waikiki.   If you are looking for a beach that is very secluded, you should head to the North Shore.
The weather got a little cloudy during the end of the photo shoot, but I was still very much able to get great photos.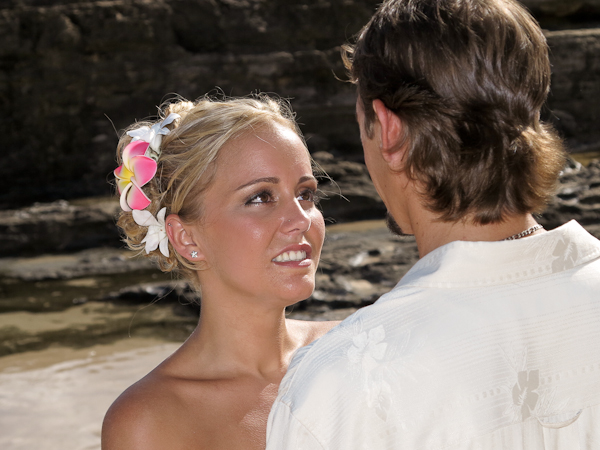 During the vows.  It's always tricky to shoot these because couples are usually on the verge of crying.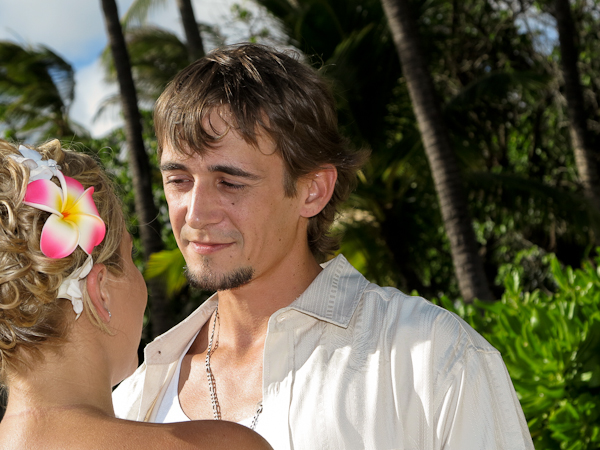 Yup, another vow shot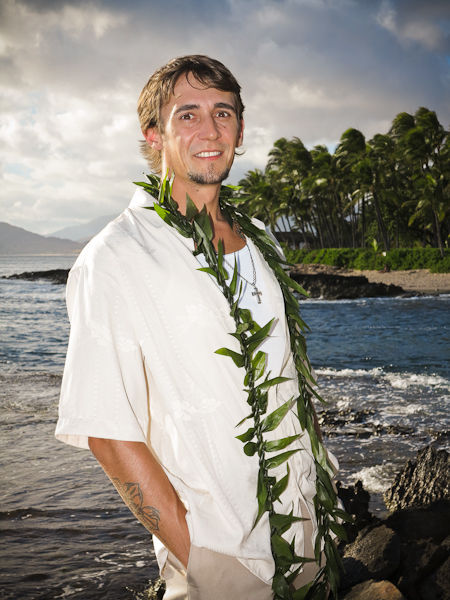 Individual shots up next.   Bryan is sporting a handmade tea leaf maile lei.  These leis last forever and are tough as nails.  It's a perfect keepsake to remember your wedding in Oahu.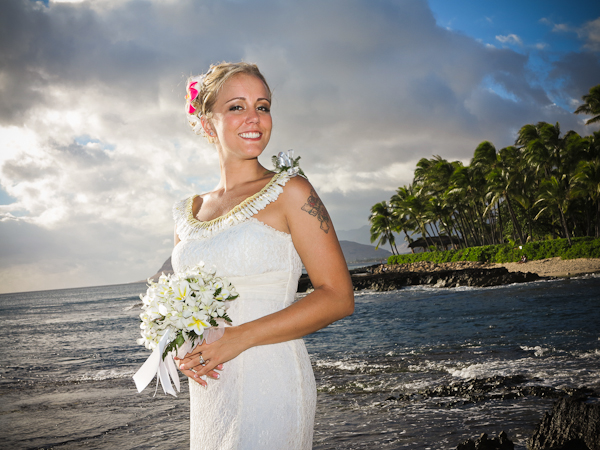 I took a handful of individual shots of Veronica.   By default, I usually take just a little more pictures of the bride than the groom.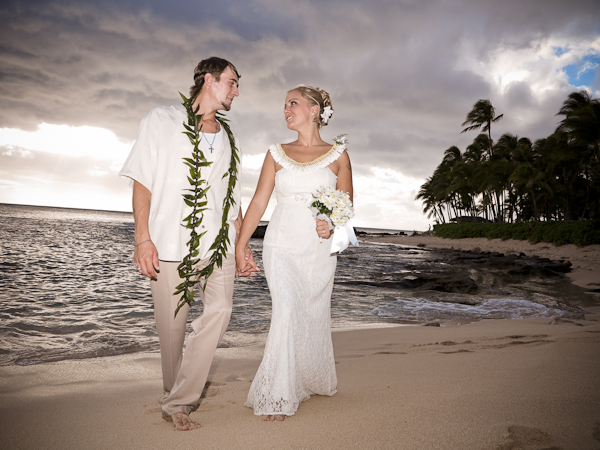 Here come the clouds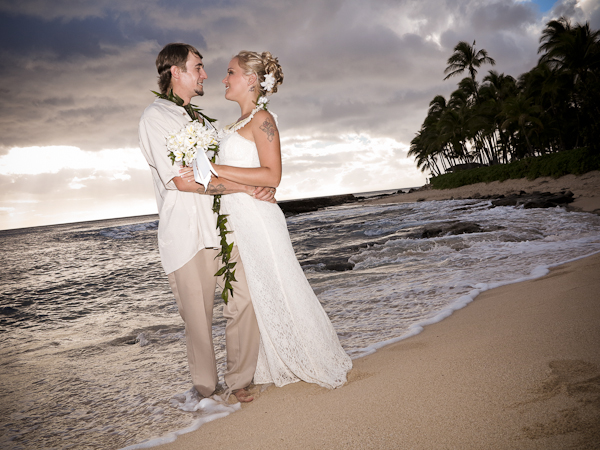 Clouds usually are great for fashion photos, as they represent conflict.  In a wedding photo, utilizing clouds to your advantage can be tricky as you don't want wedding photos to be at all negatively biased.  So the solution is simple.   Have the couple kiss, and it sends the message that "Love conquers all."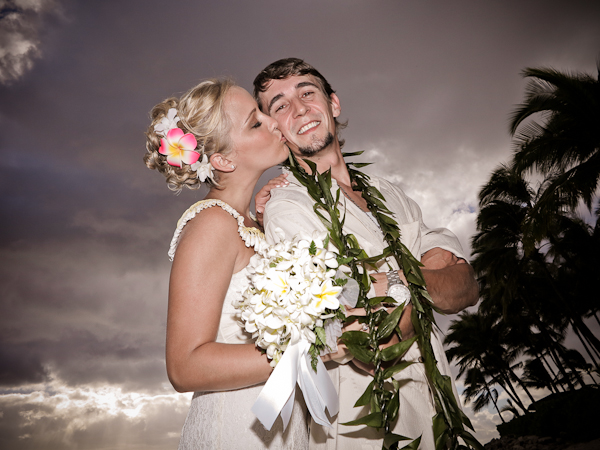 Digital photography outperforms film in stormy weather as the clouds can be manipulated to look more dramatic.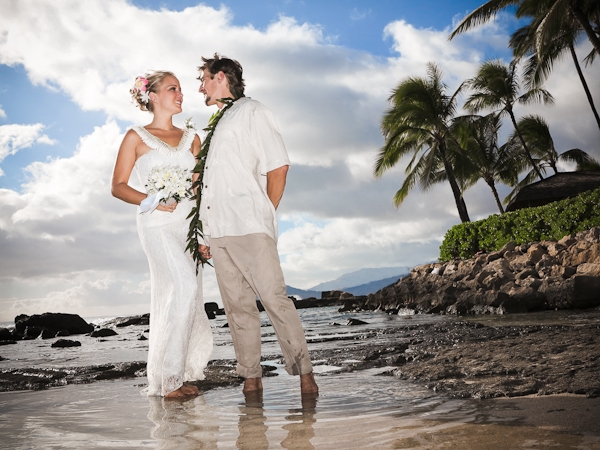 One of my favorite wedding shots to do at Ko'olina, the reflective water shot.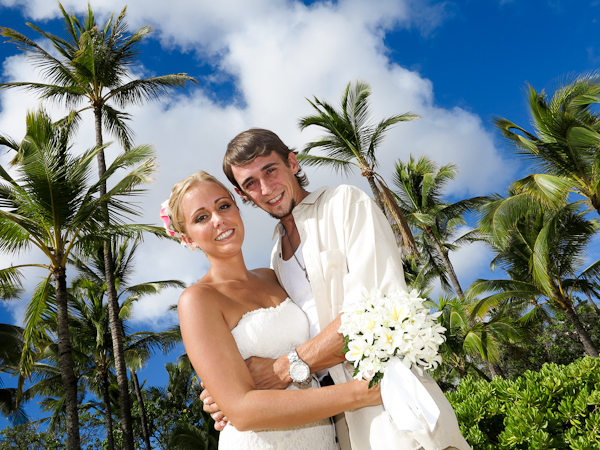 These were one of the first shots that we took at Bryan and Veronica's wedding.  It was taken before the ceremony.  Notice we have blue skies here and cloudy skies just 30 minutes later.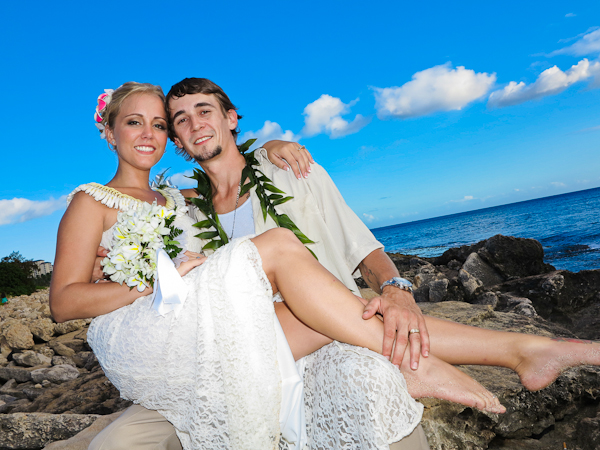 Nothing but blue skies.   This was shot on the opposite side of the cove where they got married.  On one side of the cove, there was nothing but clouds, but on the other side, there was nothing but blue skies.   I don't usually shoot on this side of the cove as you can see hotels in the background.  But you don't really notice them in this shot.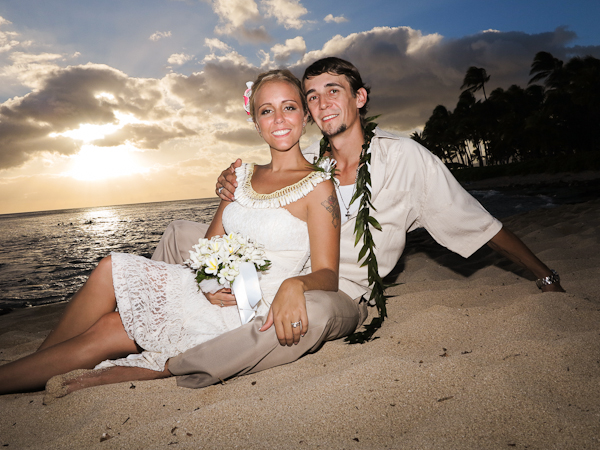 Now we're getting into sunset.  Notice the clouds on the horizon.  Yes, the sun is setting 30 minutes earlier than expected due to clouds on the horizon.   This happens very often.  Timing the sunset perfectly requires a photographer who understands not only the medium of photography, but one who also understands the weather.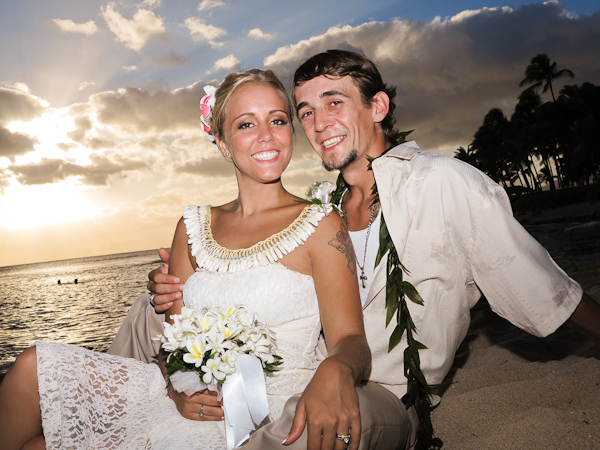 With most of my shots, I shoot more than one angle per pose, including a far away shot, and close up.  Kinda just like the movies!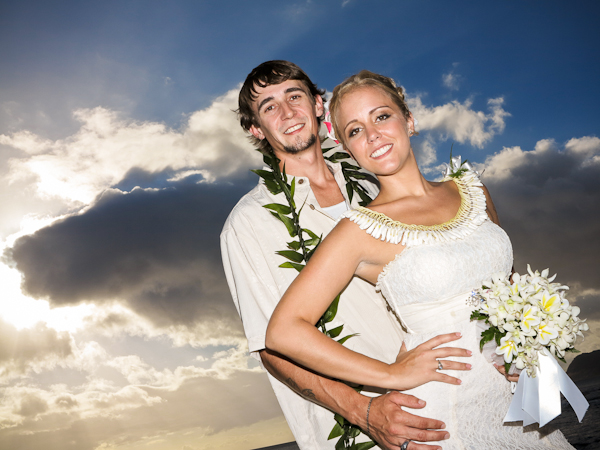 Using a cloudy sky to my advantage.  It doesn't hurt to have an photogenic couple too right?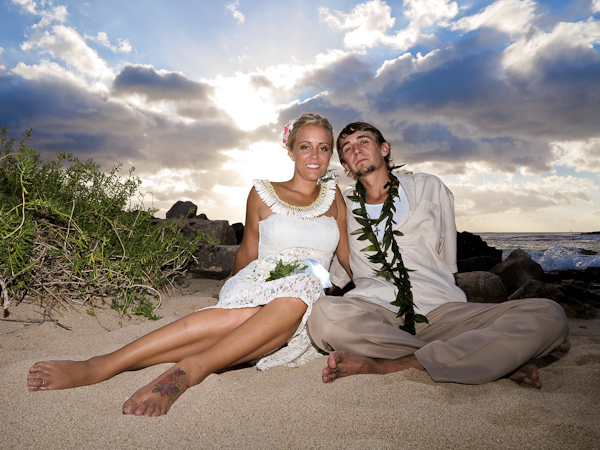 When a bride has great legs, I always make sure they show them off.  That same rule though, does not apply to the groom haha.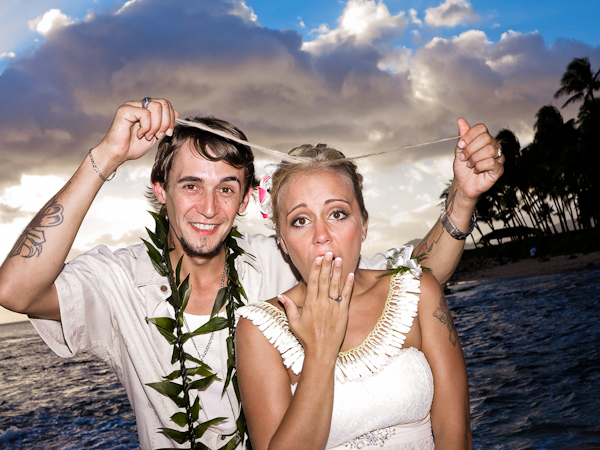 Veronica's bangs got in the way of a lot of shots.   I had a knife and I would have cut them off if she asked me too.  We of course, had to do a funny shot with them.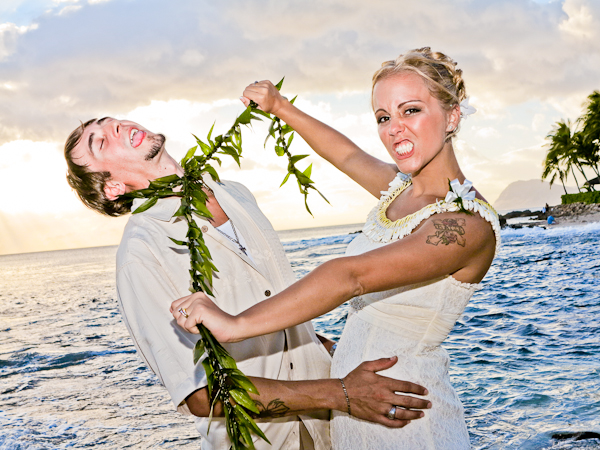 Is it just me, or do these crazy fun shots look a lot better than my posed stuff.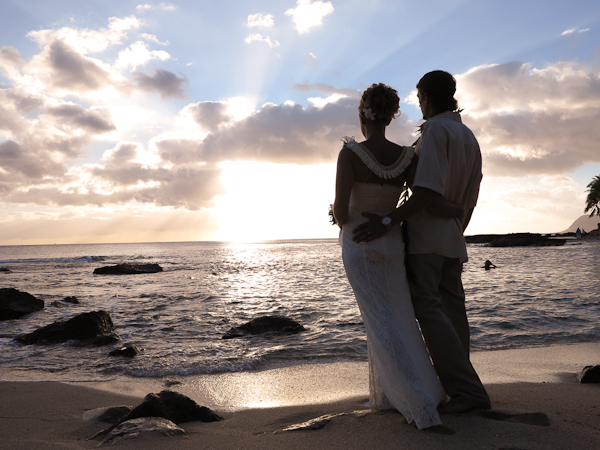 This photo is best shot on digital as I can get my exposure exactly where I want it.  It's really hard to pull off with film.  If it were shot on film though, the sun would have not been as washed out.
Bryan and Veronica ordered a rather robust wedding  photography package from me, opting for 1 1/2 hours of photography coverage, but going full digital instead of ordering a roll of film.   The extended photography coverage allowed me to really take my time, and to get in a lot of different poses in.  We literally shot from one side of the cove to the next, chasing blue skies when we could, and taking advantage of cloudy a skies when appropriate.
Their wedding video can be viewed by clicking here
I wish these two my best!