Never in my wildest dreams did I imagine that I would be writing a serious article regarding the subject of Ebola: in Hawaii, in my lifetime, and how it could possibly affect your Hawaii wedding plans.  Unfortunately, this is not a drill.  While the chance of Ebola coming to Hawaii, infecting you, killing you, or ruining your destination wedding plans is extremely low…There's still a chance.
CAN EBOLA COME TO HAWAII?
Well, it really depends.
Hawaii receives basically zero tourism from third world nations in Africa, let alone, those nations stricken with Ebola.  Most who live in Africa don't even know that a place like Hawaii exists.  Moreover, those that do, cannot afford to come here.   And, if they can afford to come here, they would have to first gain entrance through the continental United States, or any other modern country.  This would mean, passing redundant safety measures (hopefully 21 day quarantines), just to reach the islands of Hawaii.  In this scenario, Hawaii remains safe.
If Ebola were to make its way to Hawaii, it would be via an American citizen; most likely a volunteer who fought this virus on its home turf in West Africa.  As of now (October 29, 2014) there is no Hawaii State law that would require a mandatory quarantine of any human who has traveled to, from, or through, an Ebloa stricken nation.  But, ironically, we do have a state law that requires any travelling animal, from anywhere, to be quarantined for a handful of weeks before and after entering our state.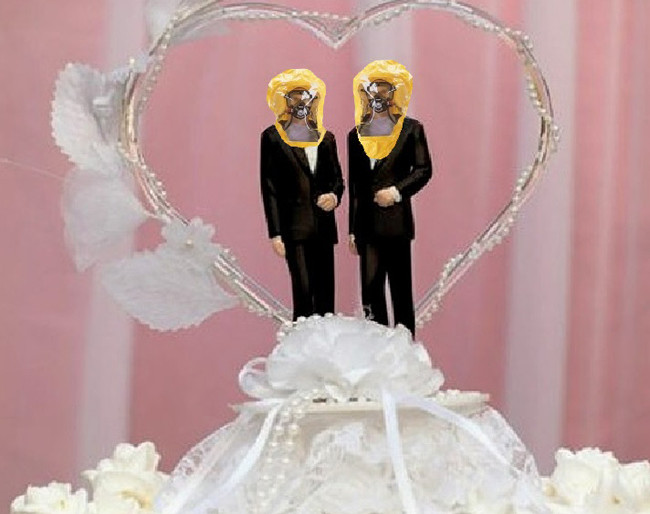 Now that's new.  A gay Ebola wedding.
WHAT WOULD I DO IF EBOLA HAD AN OUTBREAK IN HAWAII
I've always wondered what I would do if I starred in a zombie apocalypse movie.  I think the first thing I would do is to seek out either Brad Pitt of Mila Jovovich; they seem to have some experience on this type of stuff.  All joking aside, if Ebola did have a major outbreak here in Hawaii I my actions would probably consists of the following:
I would immediately seize all of my weddings in Hawaii. I have a feeling I wouldn't have to do this as couples would either cancel or voluntarily delay their wedding plans.
I would try to leave Hawaii before a travel ban would occurred…wouldn't you?
If I didn't make the travel ban, I'd get my guns, ammo, and food, and literally barricade myself in my house and not leave it until we get the all clear. I do have experience in this, sorta, as I was pretty good at playing Nazi Zombies on Call of Duty.
THE CHANCES ARE BASICALLIY CLOSE TO ZERO
As scary as Ebola is, more people die worldwide from bicycle and car accidents per day.  More people die from the flu per year.  In America, only one patient who had Ebola, who was not an American, died on American soil.  That's one in over 300 million.   Statistically, you have a better chance of winning the lottery in America, than dying from Ebola in America…as of now.  What the future holds, I don't know.
MY ADVICE
Plan away.  Give your wedding plans a full green light because this doomsday scenario has a very low chance of coming true.  If the zombie apocalypse occurs, I'll call you, and we can figure out a plan.