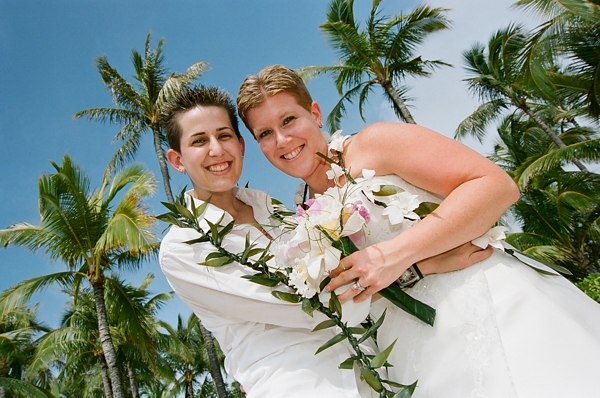 My first same-sex couple in 2008
SAME-SEX MARRIAGE MAY SOON BECOME LEGAL IN HAWAII
Hawaii Governor, Neil Abercrombie, has called a special legislative session in the State of Hawaii to legalize same-sex marriage.  Here in Hawaii, same-sex couples (and heterosexual couples), can already legally unite through civil-unions.  Yes, you read that correct, a heterosexual couple can opt to unite under civil marriage laws, rather than normal marriage laws as well.  Uniting under a civil union rather than marriage is advantageous to a couple who wants to protect their assets.  Since civil union divorce is not one that is regularly processed through the courts, a spouse may not be automatically be entitled to their estranged partners equity.
"No one knows really understands how to process a civl-union divorce.  It's new, there are a lot of things we don't understand", an unnamed attorney told me.
Governor Abercrombie stated that the reason he chose to call a special session this year rather than waiting for Hawaii's regular legislative session next year was "because of implications on taxes for this year."
Some married couples that are dual income, and file jointly, undergo a marriage penalty tax.  To avoid these penalties, couples file separately.   But how does a couple who is joined in a civil-union file their taxes for their State and Federal?  Civil-unions are not recognized in all 50 States, and the Federal Government doesn't recognize them at all.  The truth is even if a civil-union couple is united under the term of marriage here in Hawaii, will other States recognize their marriage as legit?   And what about the Federal Government?  The Fed's don't recognize civil-unions or same-sex marriages at all.
It's a mess.
A military couple who finally could openly admit their love at their job, and legalized it here in Hawaii
"The government doesn't do much right.  In fact, I'm pretty sure they don't do anything right.  So in my non-humble opinion, they should purely get out of the business of marriage. Should same-sex marriages be legalized? No.  Should regular marriages stay legalized?  No! The word legal marriage should be an oxymoron, and should not exist. Gays, Straights, LDS Mormons who want 10 wives, and that guy who wants to marry his car, should ban together and tell the government to stay out of our lives…and call for a movement to PRIVATIZE MARRIAGE." – Steven Young.   
MY OPINION ON MARRIAGE….
I'm a Christian.
But instead of spewing what you think you've heard before, I'm going to present to you a view that you may not have witnessed from churches, or even the Pope.  Because most organized religions don't believe in what I'm about to say; even though what I say is biblical.
In The Garden of Eden, God literally told Adam and Eve to become one in flesh (which meant sex)  with his newly found woman, and then once they had sex, they were husband and wife.  There was no marriage ceremony, no rings, no preacher, no church,  no vows, and no wedding planners involved.  And most importantly no government.    Just sex.
So back in the day, if we go according to the Bible, marriage equaled sex.  God literally said, you slept with that woman, now she's your wife.  And then Eve yelled at Adam, "Take out the trash honey!"
My opinion, if you sleep with it (man, woman, animal, inanimate object) …your married to it.
Yes.  Sex equals marriage, and this is why sex is much more than just a one-night stand, why sex isn't right for kids, why sex is very important in holding a relationship together, and why when a spouse cheats on another, it is only considered really considered cheating if they sleep with their mistress.  This is also the reason why people who have a very large number of sexual partners, find it very hard with the idea of marriage.  It's because they have literally been married many times, and they have just watered down it's meaning.  Because not only had that person been through many spiritual marriages, but many spiritual divorces.
As a Christian, one would automatically say that I am against same-sex marriage., but I'm not.
A Christian once told me that gays are sinners, and that the reason why gays shouldn't be allow to marry, is because they would be living in sin, and go to hell..   Yes, gays are sinners.   But every Christian is a sinner as well.  We're all freaking sinners!  We're all living in sin!  There is nowhere in the bible that where it says that Jesus will send all gays to hell.   And who are they, "the religious judges", to sit on the white throne of judgement and perform God's job of determining who goes to heaven or hell.  Last I read in the Bible, the last thing to try to take over God's job, Lucifer, was sent to hell.
Just my two cents.
By the way, I know I didn't say this outright, but my company definitely accepts the business of same-sex couples. The only couples who I discriminate against are those who don't pay.