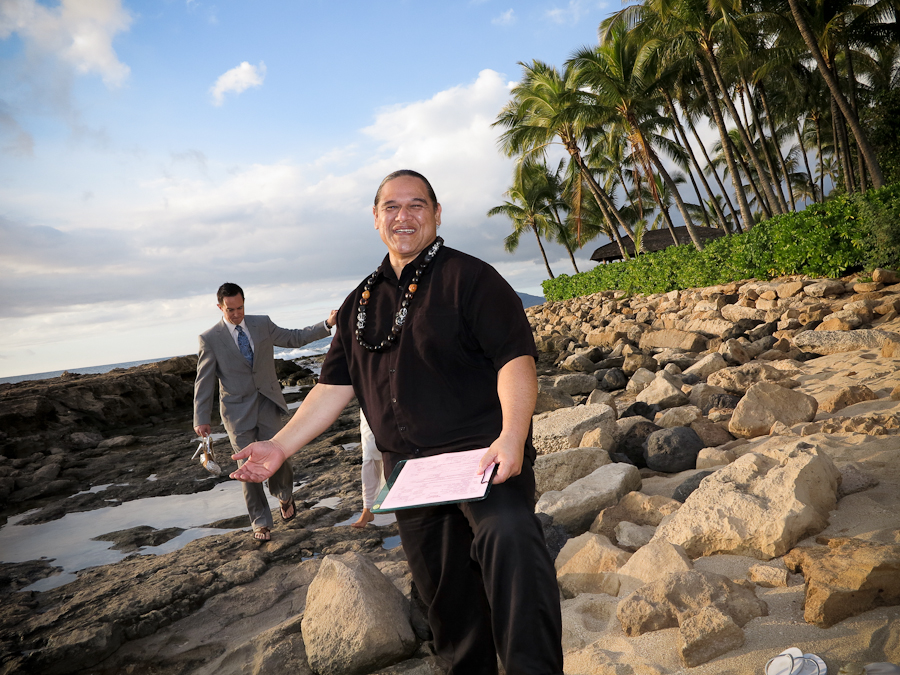 That pink paper, well, that's the marriage license. No too fancy eh?
HOW TO GET YOUR HAWAII MARRIAGE LICENSE
Chances are, if you're looking to get married in Hawaii, you're also looking to make it legal as well! To make you are eligible for all those wonderful marriage tax penalties, you'll need a marriage license. Luckily, here in the State of Hawaii, obtaining a marriage license is very easy because:
There is no blood test involved
There is no waiting period to obtain your marriage license: no requirement to post a public notice of your intentions to marry, and no requirements to live in the State or towns in Hawaii for any amount of days prior to obtaining your marriage license.
Divorce decrees, proof of divorce is not needed. Just the date of your divorce (if needed) is good enough
There are two ways you can get the acquired paperwork for your wedding:
If you are flying to Oahu, you and your fiancé can travel directly to the Department of Health, which is located fairly close to Waikiki, and apply and pick up your marriage license in person. This process takes literally 10 minutes and is the easiest way to get your Hawaii marriage license
You can apply and pay online (click here to go to DOHs online application center), then pick up your license through the Department of Health, or an independent wedding agent who works from their house, or even a place of business.
*If you are getting married on the island of Maui, Kauai, Lanai, the Big Island, or Molokai, or need to obtain your marriage license on the weekend or holiday, you must exercise this option
What you will need to get your Hawaii marriage license:
$65 cash if you get your license in person at the Department of Health. possibly more if you pay by credit card when you apply and pay for it online. *This price is subject to change as our government finds ways to profit off everyone
Official photo identification – i.e. passport, driver's license, military ID
Your fiancé – you cannot pick up your marriage license alone. Your fiancé must accompany you and he or she, must also bring their official photo ID as well!
What you WILL NOT need:
Even though there is a space for you to put the name of your officiant on your marriage license, you will not need it to obtain your marriage license.
Location of your wedding ceremony
Birth certificates, divorce decrees, etc..etc.. Just bring your driver's license or passport and you'll be fine.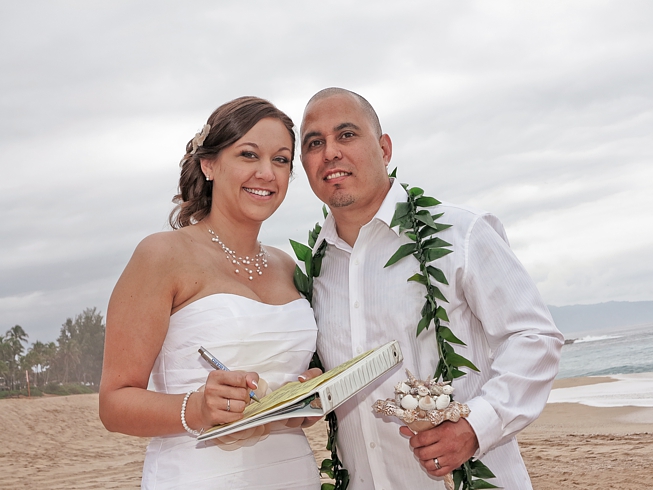 The color of the marriage license varies from white, pink, to yellow. Don't ask me why or how they picked those colors.
I've seen some marriage licenses from other States, and they are very pretty. Ours…are ….not as good.
THE BIG NEXT STEP…
Once you get your license, just make sure to bring it with you on the day of your wedding. After we are through with you ceremony, you will then sign your marriage license to make it official! Our minister will then take your wedding license and register it online. It will take the Department of Health two to three days to process your marriage license. After that short wait, a printable copy of your marriage certificate that can be used for health insurance and bank name changes will be available for download. Your official marriage certificate will arrive in the mail within 2 to 3 months. You will need your official marriage certificate for anything government related: passports, citizenship. If you must receive your marriage certificate sooner than later, you can request that your certificate be expedited sooner by filling out a form and paying $10 USD via check or online.
IF YOU NEED TO GET YOUR MARRIAGE LICENSE ON THE WEEKEND OR A HOLIDAY YOU CAN!
You will need to apply and pay your marriage license online.   Then, you will need to contact an independent wedding agent.  That list of agents can be found by clicking here
IMPORTANT LINKS:
The Department of Health's official marriage license website – includes great information on who's is eligible to get married. Unless you are marrying your brother, or are a minor, you have nothing to worry about.
It's online application center – apply and pay for your license online.
If you need your marriage license faster – fill out this form and mail it into them is a $10 money order or check.