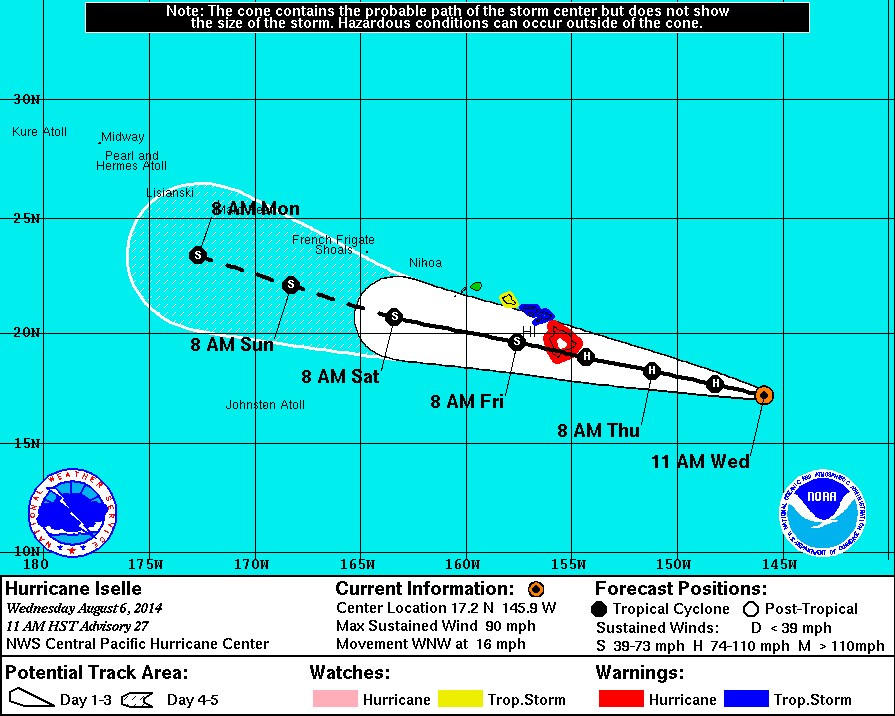 Latest Track
UPDATE AUGUST 6TH:  It looks like a Hurricane will hit the Big Island, weaken, then miss us (Oahu).  So it looks like we're in a for lots of rain.   Lets pray that it doesn't take a turn north.  That's what happened with Iniki.  It strengthen and then turned North.  If any hurricane would score a direct hit on our power plant, we would really be in for it…for awhile….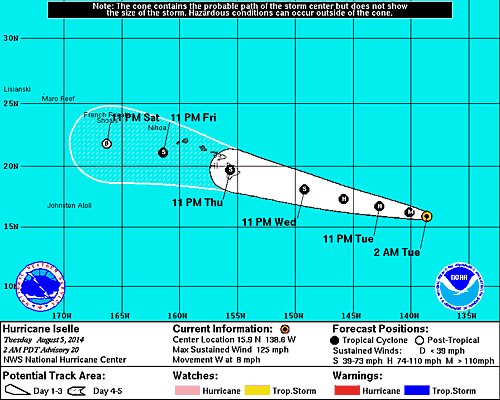 The last time a hurricane made landfall here in Hawaii, it was 1992, and I was in the 9th grade.  Iniki was the name given to the storm, and it scored a direct  strike over Kauai as a category 4 , packing winds as strong as 145 mph.  The damage was massive, totaling over 1.8 billion USD, and killing 6.   It's been 22 years since our last hurricane strike, and it looks as though this streak may continue as Hurricane Iselle is predicted to weaken to a "Tropical Storm" status by the time it makes landfall.
The computer models predict that Iselle will weaken, but many residents are preparing for the worse.  Iniki was predicted to miss the Hawaiian Islands, so I don't blame them.  At this moment, there are lines that rival those found on Christmas Eve at every food and drugstore on the island.   Locals are buying stockpiles of bottled water and toilet paper as though it were the apocalypse.  This type of tenacity unfortunately is resulting in supply shortages that are not good for anybody.   If you're wondering, I have yet to get my emergency supplies.  I will probably get some today.  If not, I'll be using my neighbor's dog as for toilet paper.  He seems to have soft fur.
The good scientific news is that the water around the Hawaiian Islands are rather cool, so the chances of the storm making landfall at full strength are very low.  But that doesn't mean I'm out of the woods.  I have a vow renewal ceremony on the day the storm is supposed to hit the Big Island, August 7th.  As a precaution, we have moved the ceremony to that morning.   We are hoping everything will be fine because Iselle is scheduled to hit Oahu on the 8th, a day later.  It will start raining here on the evening of the 7th, so if I have the ceremony at 9am in the morning, I believe everything will be okay.  I'll keep you posted, and will definitely post pictures of my "hurricane Iselle" couple.
The really strange thing is that right after Iselle passes, we have another tropical storm that will hit us three days after.   Geez, now I know how Florida feels.
Keep us in your prayers this week.