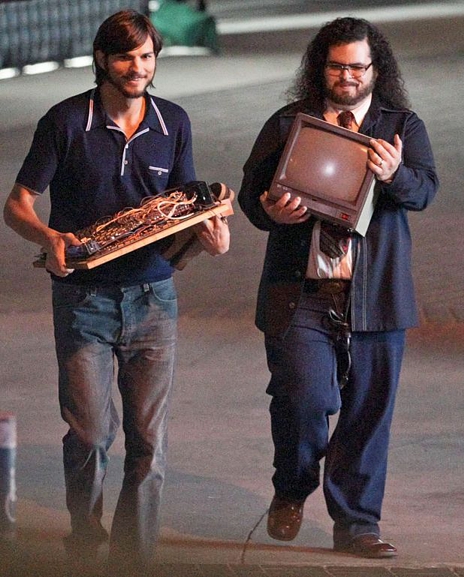 Great Acting, Direction, Flawless writing
"Jobs" is the unauthorized movie about Steven Paul Jobs. In case you've been hiding under a rock for the past 40 years, Jobs is the notorious inventor of the toilet seat, the electric lay-z-boy recliner, and that Olympic sport where they twirl the ribbon for five minutes.   Ashton Kutcher stars as Jobs and pulls off an award winning performance.  He nailed the look, walk, and even the hairline of Steve Jobs.
According to Steve Wozniak, "Jobs was a very angry and sexy man to build computers with, get yelled at, and then share a beer with.  Ashton was almost as insane, but not as flirtatious."
The movie follows Steve Job's career as a hippy with no money to an angry hippy with money. Never before did I realize nerds could be entertaining assholes, but this is exactly how the inventor of Apple is portrayed.  Imagine, Jack Nicholson's hate, with a beard, an old man's walk, and a computer, then you have Steve Jobs.  "Jobs" should not be mistaken as a factual representation as the movie is filled with many inaccuracies.  The real Steve Job movie that is approved by the family is due out sometime in the far future.  The question is whether it's worth it to spend $10 to see a well directed fictional interpretation of Steve Jobs?   Hmm…that's a tough call.