A BEHIND-THE-SCENES LOOK AT MY RECENT MAUI WEDDING
Getting married in Maui just isn't an adventure for my couples, it's also a day long conquest for myself as well!   For every Maui wedding, my day starts bright and early at 3am with my usual taming of my wild hair, and my normal routine to rid myself of morning breath.  Within thirty minutes, I'm dressed, packed, and on my way to the airport.  When traveling inter-island, I prefer getting the first flight out as everything runs rather smoothly.   There are no lines at the check-in kiosk, security lines (as soon as they open) move very quickly, there are no lines at the rental car companies, and traffic on both islands are non-existent.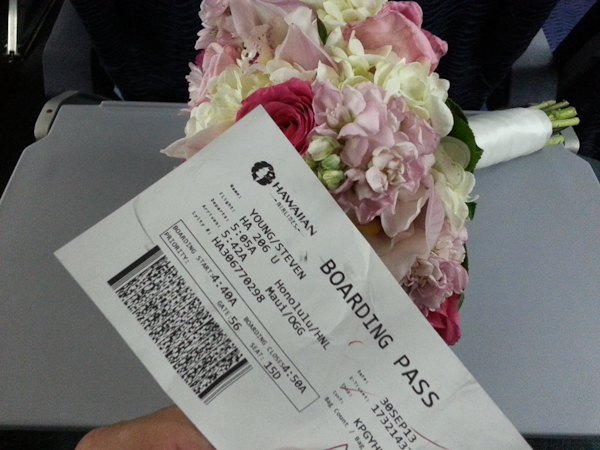 Sitting in my Hawaiian Airline Seat, on my way to Maui from Honolulu
When I travel inter-island, I pack very light, and carry-on everything, including my clients bouquets and flowers.   Now that I think of it,  I must look rather strange carrying around bouquet in the airport.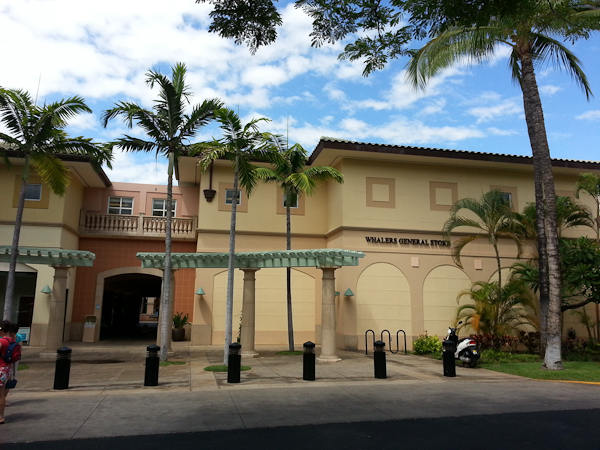 The Shops at Wailea – my favorite place to kill time in Maui
The Shops at Wailea is about a three minute drive away from the beach where I conduct all my weddings, Po'olenalena.  I know this shopping mall rather well.  Well, I'll be honest.  I know it's parking lot rather well.  I don't shop here, I just sleep in my rental car here for most of the day.
This morning was a little different though.
When I arrived at the mall, as usual, the parking lot was completely empty.  The sun still had not risen completely, but I still found myself a nice large shaded area that would shade me from the rising sun as I planned to catch up on sleep for the next six hours.   I parked my car, climbed into the passenger seat, reclined to lounge mode, and shut my eyes.
Within a few minutes, I heard the crackling of a dispatcher's radio filling my car.   I cracked open my eyes to see that a handful of taxi cab's had pulled up besides me.   They too had the same idea, sleep.  I closed my eyes and fell into a deep trance.  Then, I was awakened by the sound of a man who sounded as though he was pleading with his wife.
"We need to stay together for the children!", he said.
I peaked my head above the passenger window to see a man pacing around his car, appealing to his wife for a second chance on his cell phone.  Interesting.   The taxi cabs were gone.  I glanced at the clock, it was only 7:30am.  An hour had passed, but it only felt like a second.  I was tempted to watch more this drama unfold before me, but it was too early for this crap.  I fell back asleep.
I awoke at around 11:30am.  Completely refreshed, I stepped out of my car to find construction workers sprawled along the lawn area of the mall, sleeping.   This mall was interesting.   Seemingly, the parking lot here was prime real estate for sleeping.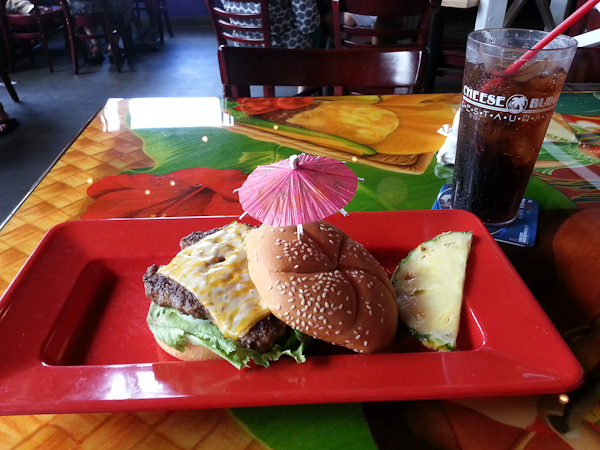 Lunch, shortly after getting up
At around 12pm, I had my first meal of the day at Cheeseburger In Paradise.   I had their original burger, supposedly, the one that put them on the map.  It sucked.  I wouldn't recommend it.  I think I had better burgers here and  I should have ordered something else.
Now, I was ready to get to business.  I hopped in the car, headed to the beach to wait for my couple to arrive.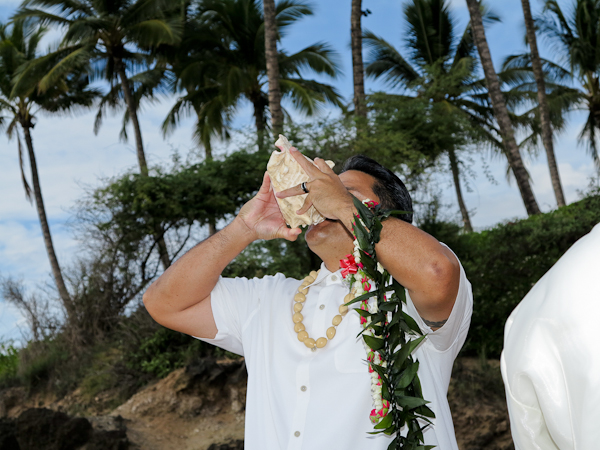 Rev. Tino, blowin' the concshell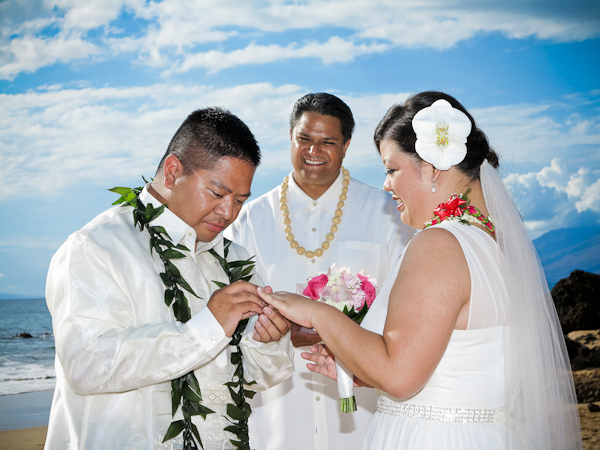 Mike and Annie exchanging rings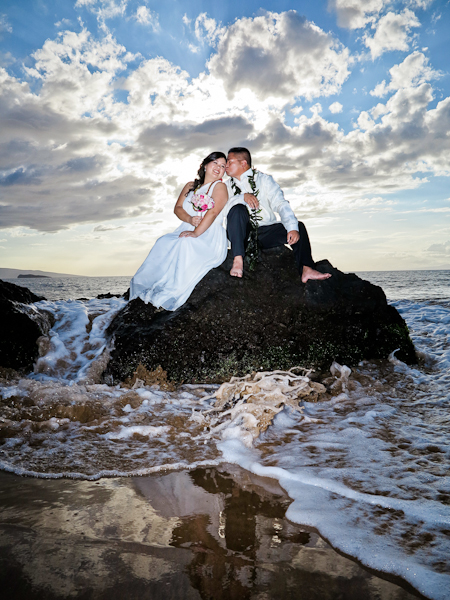 Probably my favorite shot of the day
The wedding, as usual, went great.   Mike and Anna were a really awesome couple to work with;  laid back, fun, willing to climb on rocks to get the perfect shot.   I'll be posting a portion of their pictures later.  By the time we finished their shoot, it was 7pm, and time for me to head back to Oahu.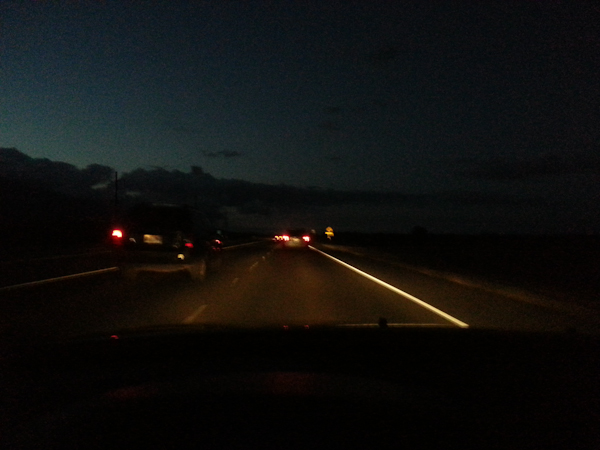 The trip back to the airport was a dark one!
Anyone who knows me, that before I leave Maui, I need to do one thing……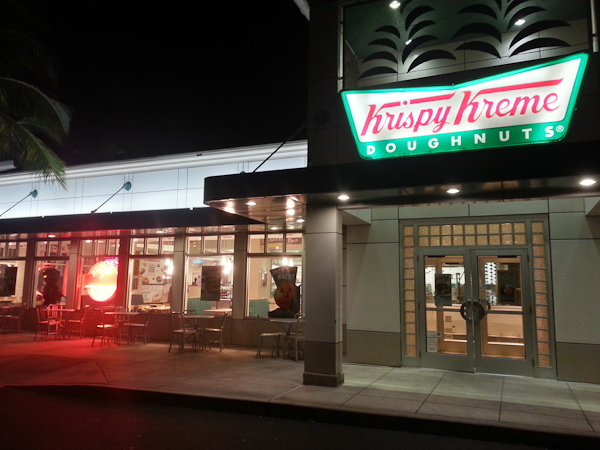 When that red light is on, it's a guarantee that I'm stopping by.  Well, even if it's not on, I'm stopping by..haha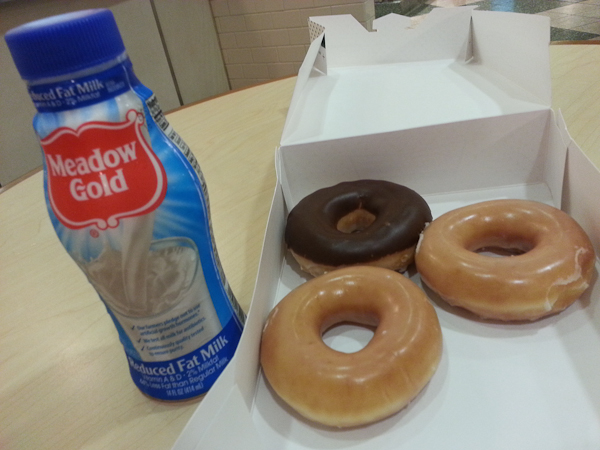 My trip to Maui has been completed.
Here on Oahu, we don't have a Krispy Kreme.  We have everything else, except…a Krispy Kreme, an Olive Garden, and Apple Bees.  Why?  I have no idea.   My nightly prayers consist of a Krispy Kreme franchise opening down the street from me, but so far, God has not answered my prayers.  I love their donuts, and when I travel to a location that features this heavenly operation, I try to gain at least ten pounds with each visit.  Once I have my donut, I'm ready to go back home.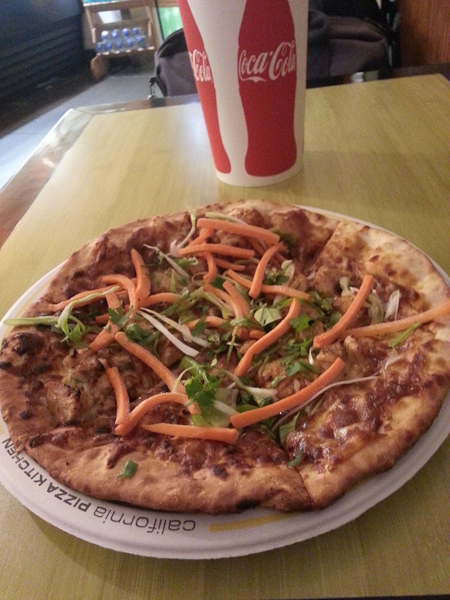 My final sin.  Airport Thai Chicken Pizza at CPK, without beansprouts
I take the last flight out of Maui, the 10:30pm flight, for the same reason why I arrive first thing in the morning.  I also like to get some work done at the airport while I wait a few hours on my plane.  Work meaning blogging, touching up photos, or marketing my company, or working on my children's novel series.  By the time I touch down in Oahu, it's usually 11:30pm.   When I finally get back home, it's midnight and I stay up working till around 4am in the morning.  Yes, I'm a night owl.
Traveling to Maui is quite a fun adventure for me, even though I follow this same pattern every time I do it, and spend most of my trip sleeping in my rental car.  I keep telling myself to stay a few days longer, but many times, I'm unable to because I have weddings the next day. I still plan to travel here to bike out Haleakala, which is over 10,000 feet in elevation!
For me to travel to Maui to plan your wedding, it cost $250 more for my travel, and $250 for ministry services.  My ministers are more expensive on Maui because everything on Maui is a lot more expensive than Oahu.   So you're looking at $500 more if you need me to plan your wedding in Maui.  It may sounds like a bit more, but surprisingly, with my travel charges, I'm still cheaper than many local Maui wedding companies.
To view my Maui Wedding Package click here.