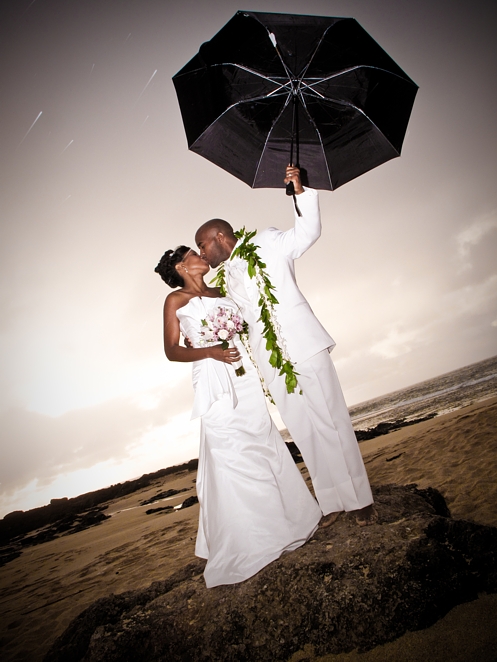 In most cases, rain makes for romantic photographs
 Bad Weather, Good Wedding.
I can easily say that the majority of my destination wedding couples, if not all, choose to get married outdoors; preferably on the beach.  Their dream?  Perfect turquoise skies and golden sunsets.  Their nightmare?  Rain, rain, and more rain.   And just recently, for this summer, hurricanes.
So let's cut to the chase.  What is the plan of action if rain is forecasted on the day of your wedding?
STEP ONE: GET GOD'S VIEW – if there's a threat of bad wedding weather for your wedding, I immediately hop on accuweather.com and start checking Hawaii's weather radar images.  Radar images give in very exact detail where it's raining, how heavy each downpour is, and where each storms cell is heading.  And if you watch them carefully enough on a loop, you can determine how fast each storm cell is moving across the island.  Most of the time, rain centralizes around select areas of the island, leaving others areas on the opposite side of the island very dry.
STEP TWO: GET IN CONTACT WITH YOU IMMEDIATELY  – Once I look at the radar map, I can pretty much come up with a plan of action based upon the severity of the weather.   The more severe the storm, the earlier I will call.
IF THE RADAR MAP SHOWS A BEACH THAT'S DRY AND CLEAR OF RAIN, you can bet a million dollars that I'm recommending we head there.
IF THE RADAR MAP SHOWS THAT IT'S RAINING EVERYWHERE, we have three options:

We can postpone your wedding until after the rainstorm.
Proceed with your wedding plans, rain or shine, and I can finish up the nice photos on another day (before you leave) when the weather is perfect.
We can come up with a plan that you have in mind.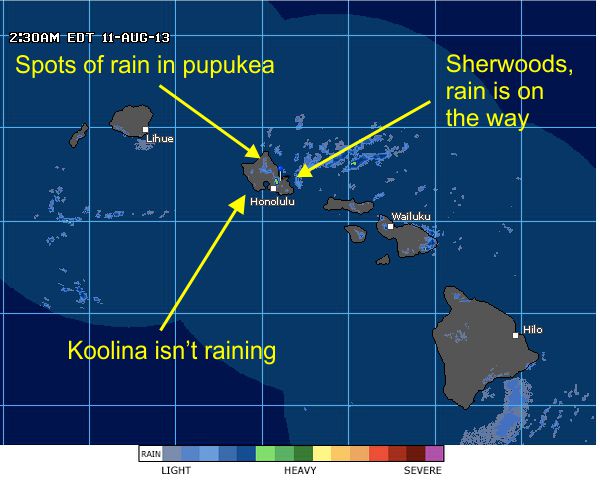 An actual screen capture of a storm heading towards Oahu. Here is how I determine where we should move your wedding in case its raining  your original wedding location.  This map tells me that Ko'olina is having some pretty dry weather and we should head that way.
IN THE EVENT OF A HURRICANE:
The chance of a hurricane hitting the State of Hawaii on your wedding day is extremely low.   Since the 1950's, only 5 hurricanes have actually made landfall.  The last hurricane to hit Hawaii was Hurricane Iniki, and that was back in 1992, before I graduated high school!  Hurricanes don't really make it to Hawaii in one piece because Hawaii is surrounded by cool waters  and a wicked wind shear. Our waters are not like the Gulf of Mexico, or the Caribbean, warm bodies of water that are thee perfect breeding ground for Hurricanes.
But let's say lightning does strike.  What happens for your wedding?
Obviously, you will not be getting married on the day when the hurricane strikes.  Even if you want to get married the day the hurricane strikes, I'm not allowing it.  I'm not working, neither are my vendors; I honestly think it will be illegal for us to go outside.  So we can either do either one of two things.  Have your wedding before the hurricane hits, or have it after.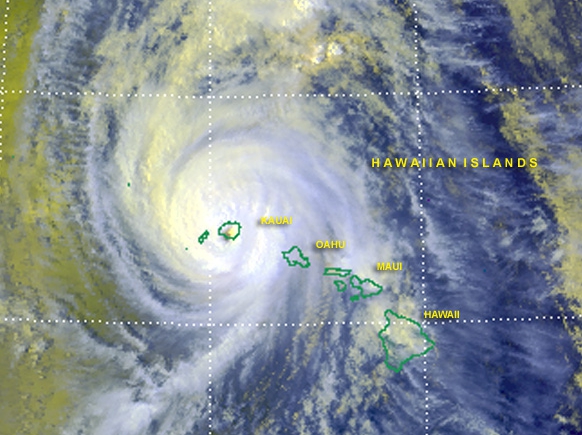 Hurricane Iniki in 1992, the last hurricane to hit the State of Hawaii
I have to make the obvious suggestion to just turn every even a negative weather encounter for your wedding, into a positive.   So maybe you won't have the perfect weather for your wedding.  You will have the perfect partner in crime for the rest of your life.  Right?  Bad weather does not equate out to a bad wedding.  In fact, I love rainy day weddings!  They are…well, much more romantic to capture.