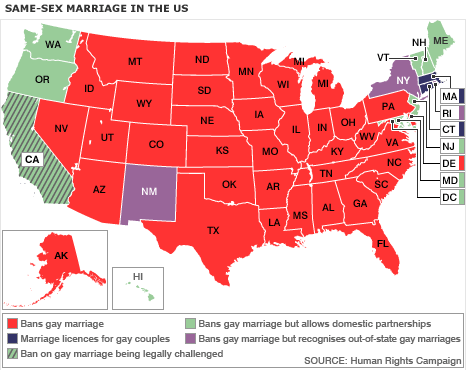 Same Sex Marriage Map.  Hawaii's Status, soon to be changed.
UPDATE:  Same-Sex Marriage is legal in Hawaii
Just a real quick update for those who are wondering if the Same-Sex Marriage is legal in Hawaii yet.  It's not.   But it's really really close. Testimonies by those who are for and against gay marriage are being held, and more are to come.  These testimonies though will not stop legislatures from voting "Yes" to legalize the bill.   The politicians have already made up their mind.
There are still many legal questions I have for the bill which I will not be able to answer until it is signed into law
Which States will recognize same-sex married couples if they are married legally in Hawaii?
Will the State make it illegal for wedding vendors to refuse business from same-sex couples?
Will a Same-Sex marriage in Hawaii be recognized in foreign countries.  For example, what is the apostille process?
Can Same-Sex married couples apply for a greencard if one partner is an American Citizen?
As soon as I get these questions answered, I'll let you know.  When it becomes law, I will immediately talk to the Department of Health so I can get to the bottom of this.
Just to let you know, if you had not read my other post about same-sex marriage, my company DOES support same-sex couples, have performed ceremonies for same-sex couples.  In fact, I'm for polygamous couples as well.  That surprises many as I am very strong Christian.  While Same-Sex marriage isn't for myself, I have no right to dictate the lifestyle of another.  There is only one type of person I discriminate against.  Ones that don't pay…haha.
My true opinion on marriage is that I don't think the government has any business in marriage.  All marriages should be privatized, and all marriage licenses, benefits, tax breaks and penalties should be abolished.