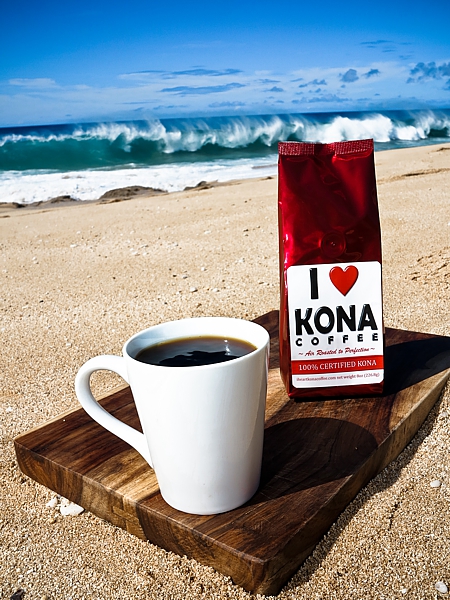 KONA COFFEE FOR CHRISTMAS?
Are you looking for a great last minute Christmas gift that is unique and awesome?  Well, here's an idea. Why not send that loved one a bag of Kona Coffee, straight from I Heart Kona Coffee.  If you're wondering why I'm plugging this coffee company, it's because I am a part owner of it,  it's honestly is a great gift idea, and the coffee is most likely the best in the world.  I'M NOT JOKING!  We are the Armani of coffees.
So what makes this coffee so awesome?
A lot of things.  Here's a quick run down.  Our coffee grown at a high elevation, around 2500 to 3000 feet above sea level, in the Kona belt on the big island, in volcanic soil that is PH balanced.   More so, our coffee is air-roasted to perfection.  Air-roasting guarantees that every bean receives EXACTLY the same amount of heat as the next.  The uniform roast allows us to create a wide plethora of roast, without burning the origin out of the coffee.  I can go on and one about how we create a great cup of coffee, but I don't want to bore you.
The end result of all of this work is a cup of coffee that taste great and goes down smooth.  If possible, drink this coffee plain and black before you put in any creams or sugars.   This coffee is great in the automatic drip machine.
If you're interested in purchasing this coffee, click here, and it will take you directly to our product that is sold and fulfilled through Amazon.   I Heart Kona Coffee has partnered with Amazon to give you the best online customer service in the world.     So you know what that means.  You can order it through Amazon, and they can gift wrap it and ship it to your loved one before Christmas!
Okay, I'm finished with my shameless plug!