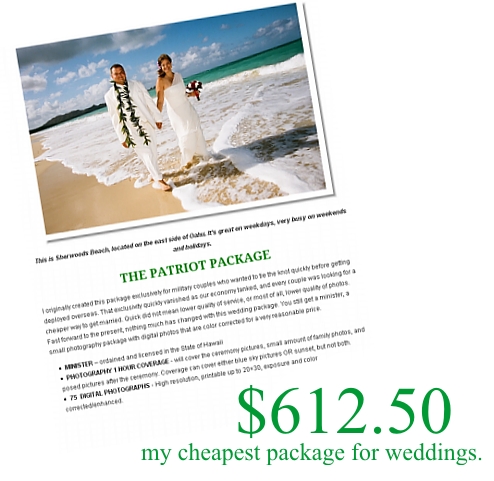 The Patriot Package includes minister services, 1 hour of photography coverage, and 75 digital color/exposure corrected photos. 
Destination weddings, contrary to belief, and in the majority of the cases, are much cheaper than your local wedding.   The "budget killer" of any type of wedding, ranging from your typical local gala to destination, is always your reception.  On average, you'll spend around $100 on each attending guest.  Each attending guest usually comes in a pair.  So if you invite 50 friends and family, who in turn bring a plus one, that's 100 mouths to feed.  At $100 a head, simple math says you'll be spending around $10,000 on just food…ALONE!   Take in mind, this price doesn't include the cost of entertainment, extended photo and video coverage, the cost of a DJ, wedding cake, alcohol, and the cost of the reception hall.  Tally up those expenses and you can easily be looking at another $15,000 to your ever-growing-atomic-budget.
Enter the destination wedding.
In most cases, when you plan an overseas wedding, be it in Hawaii, the Caribbean, or Europe, the majority of your guest will not be able to make it.  Generally, traveling overseas is either too expensive for your guest, or it conflicts with their work schedule.   Fewer guests means a much smaller reception, a smaller reception means less money, and less money spent on guest means more money for yourself.  Are you being selfish or greedy with having less guest attend your wedding?  I say, no.   You're just being a lot more economical!
To state it rather bluntly, if you're looking to save some hard earned cash, planning a destination wedding may be something you seriously want to consider.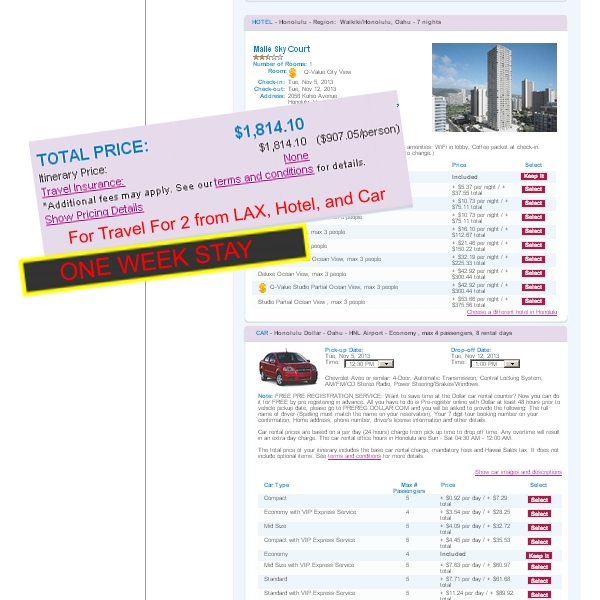 Actual screen capture from my agent booking engine on October 9, 2013
Your wedding ceremony (that includes the minster and photography package) plus travel to Hawaii  from Los Angeles, could be as cheap a $2500.  Throw in a small dinner reception for a group of ten, and spending money for the trip, you could be looking at spending $5000 in total.
$5000 is what your local wedding photographer will charge you for his or her's days work.
$5000 is probably what you may be your bar tab at your local reception hall.
$5000 is what you may pay in therapy after dealing with the stress of planning a local gala wedding!
When you plan a destination wedding, especially one in Oahu, there are two things you also may get that money just can't buy: a lower stress level and romance.  Maybe I'm being a little bias here, but I've planned all types of weddings.  Larger weddings are not as romantic as smaller ones.  They just aren't.  There's something really special that happens to a couple when they are on a deserted beach and all they have to worry about for the day is saying their "I do's."
To prove my point, watch my latest video.