HOW'S THAT URBAN LEGEND TREATING YOU?
When I was in high school there was a local urban legend that said, "If anyone took raw pork over the Old Pali Highway at night, bad things would happen.  Bad…supernatural…things."   The urban legend was passed down through generations of storytelling, circulated through local television shows, then spread throughout the state in locally published books and small newsletters.   I remember relatives had echoed stories to us as children, repeating the mantra "taking raw pork in your car at night would cause it to stall!"  The urban legend grew, with some people even reporting seeing a dark shadow in their backseat before their car died.  A few reported seeing a faceless woman before their car kicked the bucket, then the next day or week after, they themselves kicked the bucket.   Somewhere along the line, this urban legend went as viral as one could in the 90's, and as silly as it was, between my high school peers, it was taken as fact by everyone…except me and a few others.
It was at the end of a late night out with my high school friends when I would unknowingly put that urban legend to the test.  I remember that night vividly.  It was a Saturday, it was getting close to curfew, and it was time to get back home.   I was the driver, as always, and had company, two of my closest friends/regular car poolers, well call them Jake and Deborah to protect their identity.  Jake lived in Kailua, which was right over the Pali, Deborah lived down the street from me.   Before we said our goodbyes to our friends, I noticed that they could not stop giggling like little wimps to each other.   Then, on our way home, while driving up the Pali, I found out why through a call to my "rather gigantic 90's cell."
"We put raw pork in your trunk Steven!  Good luck!", my friend giggled while trying to conceal the laughter of others.
When I told Jake and Deborah about our situation, their reactions were mixed.   Deborah, demanded we stop the car to get the pork out.    "I don't want to die Steven!"
Jake, on the other hand, shared my opinion.  "I really don't care", he said.
"Well I don't believe in this crap either," I said as we pressed on up the highway.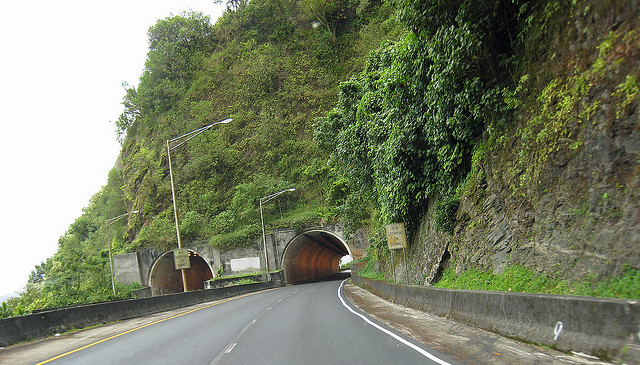 The Pali Highway.
As we made our way up the highway, Jake and I had almost forgot for the fact that we had raw pork hidden in the trunk of my car.  I say "almost" because our conversation kept getting interrupted by Deborah's prayers to Jesus to keep us safe from demons during our journey.  It wasn't to any of my surprise to me or Jake that we had made it over the Pali Highway unscathed and in one piece.   My own parents had bought pork from Costco many times before, and we as a family had transported it over the Pali Highway without any incident.   When we finally made it to Jake's house, I popped the trunk and found several packages of bacon thrown haphazardly in the back.
"Do you know what this means?" I said holding up the packages of smoked bacon.
"What?" Deborah asked.
"It means I have breakfast", I smirked.
The moral of my "high school story" is very simple but should be taken very seriously.   The truth is never a matter of finding the consensus.  Sometimes what is popular is nothing but fan-fiction.     And often, many times, the truth can be found in the  stance of the minority.
Those who fly in the face the status-quo and succeed are seen as pioneers, trendsetters, revolutionist…geniuses.  Am I calling myself a young genius?  That's for me to report, you to decide.  That night, I found out that indeed, taking pork over the Pali Highway was nothing more than folklore.  But more importantly, I found out more about my some of my "so-called" popular friends that I hung around in high-school.  I remember turning to Jake and telling him, "Its disturbing that our friends actually think that pork will kill us, and then they put pork in the back of our car.  Their friendship is the urban legend."
That night in my young high school life, while trivial and small, was just a small cross-section of my maverick personality that would eventually lead me to find the truth in many situations, and eventually would greatly account for what many in the wedding industry considered "flagrant trend-bucking opinions."
Till this day, when it comes to weddings, I believe that:
Maybe the popular expensive gala weddings are not as romantic as they seem to be in the photos.  In fact, maybe they are downright…STRESSFUL.
Maybe spending $20,000 or $30,000 on a wedding is not a good idea, and there's a fiscally better way to get married and put a down payment on your future house at the same time.
Maybe you don't need a gigantic DSLR to get great shots.
Maybe film isn't dead.
Maybe three-camera coverage of a wedding can look like a movie.
Maybe getting married in Hawaii isn't as out-of-reach financially after all.
Maybe wedding planning doesn't have to be stressful.  In fact, it could be a whole-lotta fun.
So the real question is.  Has planning a wedding in Hawaii become your urban legend?  Or are you ready to pack the pork in the trunk and find another answer?  If you're ready to step out of the matrix, call me.