PHOTOGRAPHY PACKAGE PRICES EXPLAINED
I'm sure by the time you've gotten your hands on this article, you've had your encounter with confusing photography packages.  I remember when I was in high school, trying to figure out what prom photography package, or senior portrait package worked, was  just as difficult as calculating the atomic weight of a compound element without a calculator.
Photography packages are confusing, there's no doubt to that.   In fact, they are so confusing, many professional photographers have no idea how to accurately calculate their own prices.  For many, their prices are much like airfares, roller-coastering up and down on any given day that you inquire.  For the majority of professional photographers, purchasing a package is like an episode of Pawn stars, where two people bargain for a great deal.
Well, I'm not like most photographers.  I'm the GOOD black sheep.
Other than having super abilities to plan weddings while photographing and videotaping your wedding, and walking on water, I just don't follow in their footsteps.   I have a couple of self imposed rules:
I don't bargain

I keep things simple
I don't bargain prices because I don't think that it's really not a fair business model.   If couple A agrees to a contract  for the eloping package at a rate of $700, and then two hours later  I charge couple B, who just inquired, $650 for the same exact package, couple A just got screwed.  It's just not fair.   So everyone pays the same price for my services….that's it.
So lets get onto calculating your photography package.
I have basically split up the cost of photography into two cost:
hours of labor
number of digital photos
STEP ONE: LABOR HOURLY CHARGE
My charge per hour of photography is  as follows:
$250 per hour
$125 for 1/2 hour
If your wedding only requires one hour of photography coverage, your labor charge is $250.00.   If your wedding ever required TEN HOURS of photography coverage it would be $2500!  I never had a ten hour wedding before, but hey,there's always a first right?  Maybe it's you.  WANNA MAKE RICH?
STEP TWO: CHOOSING THE AMOUNT OF PICS YOU WANT!
How many photos do you want?  How many photos do you need?   That is the question
15 to 20 photos – great for family portrait sessions
35 photos – perfect for vow renewals, where couples just want a handful of shots of their ceremony, a few of the attending family, and a few of them in the scenery
75 photos – good for the first time wedding couple who isn't too picture hungry.  This covers every beat of the wedding ceremony, and a good amount of posed and candid photos after
100 photos – everything the 75 photo package has, except I add in more photos for sunset shots.
100 plus photos?  – well, that's for receptions, or very very large weddings with a lot of family.
The number of photos listed is not the number photos that I take, and not the number that you choose from a batch of a million of clicks.  It is the number of photos that I promise will be usable.   So for example, if you order a family shoot of 15 photos, I will shoot whatever it takes to deliver 15 great photos.  Now, I may shoot 100 photos in order to get 15 great photos because your baby daughter doesn't cooperate.   But you will get all of the photos.
If you order 100 photos for your wedding, I may shoot 110, maybe 200 photos, if your hair doesn't behave well in the wind.  Hey, sometimes those crazy hair photos workout really well too!
I DON'T UP-SELL, POST-SELL, ANY PHOTOS.  YOU GET WHATEVER I TAKE.
So whatever price is on the invoice of your wedding, you will not have to worry about paying a cent more after you get married.   Many photographers do this!
THE COST – $2.50 per digital picture.  What you are paying for per picture is the post production processing time.   Digital photography is not like film photography.   God, I wish it was!Digital photos look bland, boring, and "un-exciting".  It takes a lot post-production work to make them look as good as film, or even as good as your naked-eye.   Every photo you see on here, in the world, that is taken with digital is processed in post production.   And well, it takes time, so there's a charge.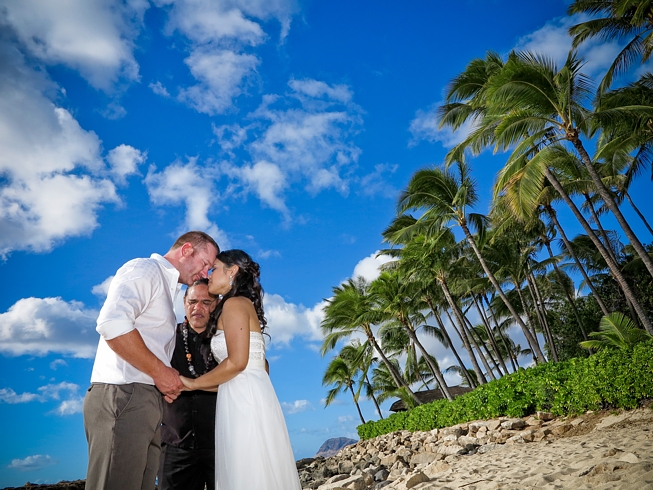 Hey guess what?  It's another shot at Ko'olina
CONCLUSION CONCLUSION!
Well, as you can see, my packages are not that difficult to understand.  And if you don't want a lot of stuff, my photography prices are inexpensive.  So really, there's no need to bargain right?  haha.
As always, if you are still confused, please feel free to give me a call (808) 479-0685.