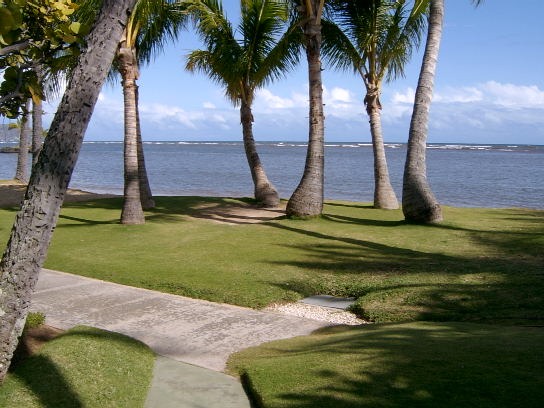 When a bride dreams about flying across the Pacific Ocean to marry the love of her life, the last thing she dreams about is getting married in the backyard of a luxury condo, next to a sidewalk.  Pictured above:  the most popular wedding location in Oahu, Waialae Beach Park.  
THE TRUTH, THE WHOLE TRUTH, AND NOTHING BUT THE TRUTH
According to Government statistics, Waialae Beach Park is the most popular location for beach weddings on Oahu; not to mention, the State of Hawaii.  Out of the estimated 20,000 weddings that take place on Oahu each year, almost one-quarter of those weddings, happen at Waialae Beach Park.   Here's a ridiculous fact: more weddings took place on that grassy twenty-square-foot plot (pictured above), than on the island of Lanai and Molokai combined.
At one point, Waialae Beach Park had gotten so popular as a beach wedding location for destination brides, that it forced the State to create a beach permit law with hopes of regulating the congestion of brides there (the state did not succeed).  Till this day, wedding companies still fight for the "choice" grassy patches to marry their couples; limousines, crowd the parking lot, and photographers blanket this area in search for that perfect shot.
Looking at a spreadsheet of statistics, anyone could mistakenly conclude that Waialae Beach Park, because of it's massive popularity, must be a great wedding location.  In fact, one can conclude that it must be the best, the greatest.  After all, the majority of destination wedding companies here on Oahu, love this place….
So it must be great…right?
No.   It's convenient.
It's convenient for the bride, but more so, very convenient for the wedding company.  Planning more than one wedding at Waialae Beach Park is logistically a lot easier than planning multiple weddings across the island in one day..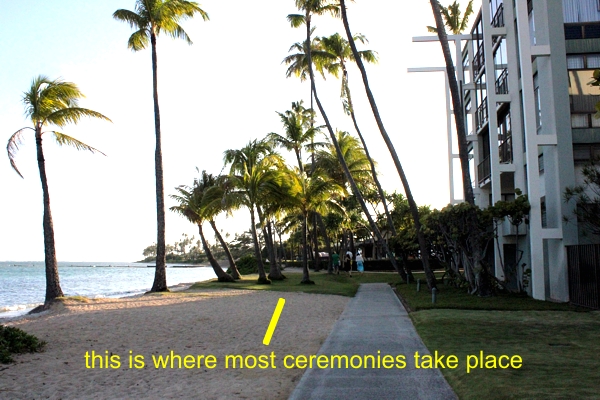 If a family is watching TV in the living room of their condo, you can hear it from below.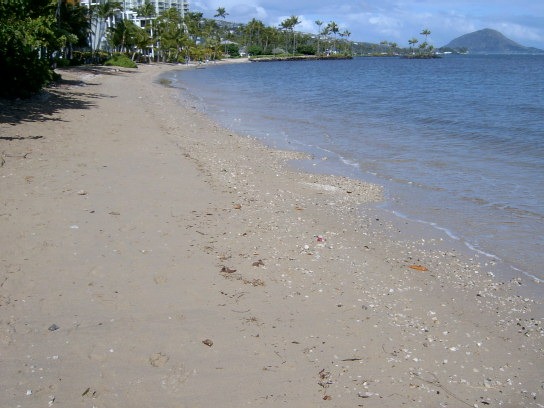 The beachy area of Waialae Beach Park.  It's not too "beachy" if you ask me.
As you have probably have figured out by now, I am not a fan of Waialae Beach Park at all.  Here are my personal rants about this place
Ceremonies take place next to a sidewalk
Ceremonies are so close to the condos that you can hear people talking in their living room
The beach is rocky
Neither sunset or sunrise can be photographed from this location
It can get very windy
Parking is a bitch
I have been part of Waialae Beach Park weddings though.  I believe a local couple wanted to get married here because this was the beach where she was proposed to.  And there was another couple who had booked only my video services, yet utilized another company to plan their wedding for them, so I had no choice but to follow and not lead.
Despite my negativity towards Waialae Beach Park, it can be picturesque, especially if your photographer is talented.  Lets also remember though, that a talented photographer can make the homeless look great, and a 10×10 studio look like a castle.
A great wedding location is never just about the pictures.  A great wedding location, must look great not just within the viewfinder of the photographer, but in real life.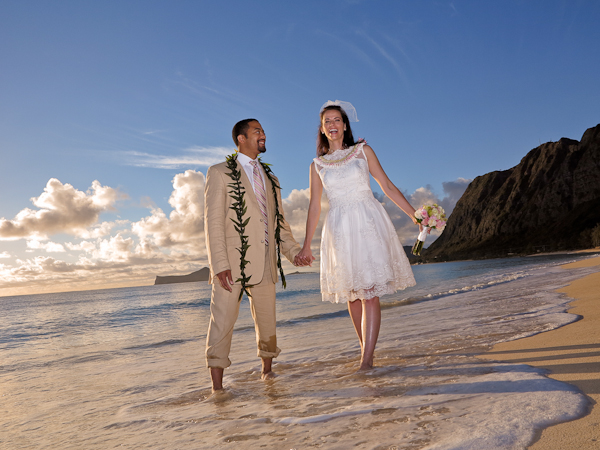 Now that's a beach.  This is obviously not Waialae Beach Park
I have an incredible bias when it comes to choosing wedding locations since I want them to be real.  I'm not a fan of fiction when it comes weddings.
Choosing the right location requires a couple to escape "touristy Waikiki" and get out to either: the North, West, or East shore of Oahu.  Drives to these gems can range from 30 minutes to an one and a half hours. But the drive is worth it.  I constantly tell my couples, "You've planned this wedding for a year, flew across an ocean to get to Hawaii, now spend an hour to drive to a great location."
As a last comment, and I have to try to phrase this very gently.  Something has to be said about the majority of wedding companies who only give you the "good angle" of Waialae Beach Park.  They elect to only show you pictures that are shot out towards the ocean, but knowingly hide the fact that behind the photographers lens, there is a three story condo.  Maybe it's just me, but I feel they are truly not being honest with their clients. And it's not just one wedding company that's only showing the good angles, it's the majority.  The majority are unfortunately engaging in unethical consumer ethics.
Our modus operandi as wedding planners is to have our clients interest ahead of our own.  I'm not sure how these other wedding companies can sleep at night.