This question is probably "thee" most common I've received from inquiring brides, and to be quite honest, probably the vaguest as well.  This question can be interpreted a few different ways.  Here are my answers to every single variable that I can think of.  I've also reworked the question to make it a little clearer.
When can I find the cheapest airfares?
You'll find the cheapest "air" to Hawaii anytime college is "in-session."  So if the kids are in school, now is a good time to leave them and come to Hawaii.  It's not that a lot of college kids come to Hawaii to party when school is out.  Last time I checked, college kids were broke.  Or at least driving their parents broke.  It's just that tons of local kids come back home during their summer, spring, Thanksgiving, and winter break.  They take up all the good cheap flights early, and well, that's why prices can start off pretty high during these times.
Getting cheap airfares is just a matter of booking early, I would say about 7 to 9 months out.  If you're a last-minute traveler, you could possibly take your chances on bidding on a low fare at priceline.com, but it's not a guarantee that you'll get it.
You'll find the most expensive airfare to Hawaii if you are the last minute traveler, meaning any date that is 2 months or less out, looking to get married in the summer, and traveling on a Friday, Saturday, or Sunday.
This brings us to another point.  If possible, try to book your travel to leave and return to your home city between Monday and Thursday.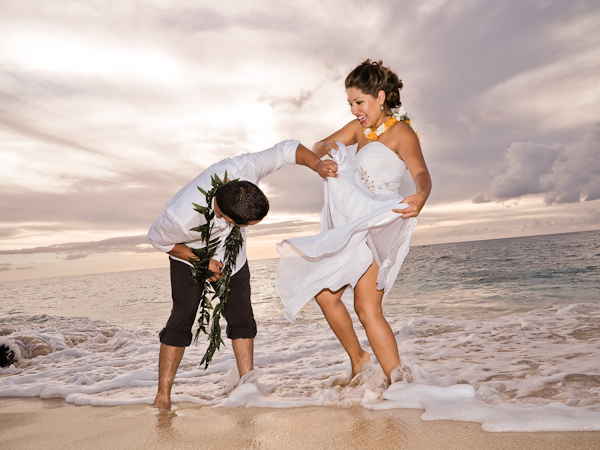 No cheap things under there.
When should I travel to find the cheapest hotel?
If you're truly on a budget, I would suggest you try finding a vacation rental on vrbo, or the notorious Air BnB, or anything similar.  Vacation rentals get even cheaper if more guest stay under one roof.  It's very possible for a party of ten to stay under a roof of a luxury property on Oahu, for a price that is INSANELY cheaper than most five star luxury hotels.  Partying up in a multi-million dollar mansion, I would have to say, is very cool.
If you want to go the hotel route: hotels are cheaper from October to December, from Monday through Thursday, and on non-holidays.  Also, hotels that are on Kuhio St in Waikiki are cheaper than those that are on Kalakua Ave.
What day of the week is the best time to get married?
Any day of the week works well FOR ME.  Many other wedding companies will tell you that it's best to get married is on the weekday, as the beaches are not as crowded.  Well, while my competitors are telling you truth, but the weekday rule only applies to them as they are conducting their weddings at beaches that are already busy; such as Waikiki, Magic Island, or Waialae Beach Park.  These locations are busy on the weekday, really busy on the weekend.   (By the way, personally I feel as those listed beaches, suck)
Any day works well with me because I head to secluded locations.  So the time of the week really doesn't matter…for my company alone.  That's why I'm special!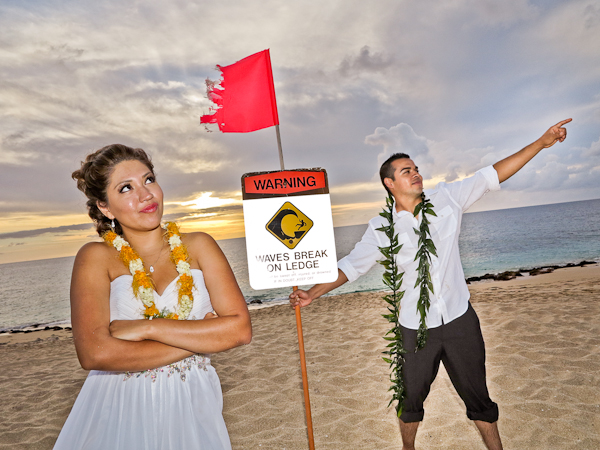 Warning, big waves there.
When in Hawaii do you get the best weather?
Hawaii truly doesn't have one climate, but literally thousands of "microclimates," if there is such a word.  At any time of the day, somewhere or someplace in Hawaii, it's raining.  And then, right around the corner, 30 miles down the road, it's sunny as could be.   So the question should not be WHEN in Hawaii do you get the best weather, but WHERE in Hawaii do you get the best weather.  And, I'll answer that now.
If you're looking for sunshine, blue skies, and a perfect sunset, in my very biased opinion, there are only two options for you, the West or North Shore.
The South Shore of Oahu is fairly stable as well, but those beaches are crowded and rather ugly.  The East Shore, well, that's where all the rain and wind happens.  When the weather is great throughout the islands, many beaches on the east shore are prefect for weddings.  The problem is that you're really toying with weather gods if you choose a location on the east shore.
Our hurricane season is from summer to around November.  Statistically, they say we are long overdue for one, but I'm not a believer in statistics.  If a woman has 9 out of 10 relationships that ended in failure, does that mean that her 10th relationship has a 90% chance of failing?  No, not at all…
What is the best time to have our wedding ceremony?
FOR SUNRISE WEDDINGS – You should arrive to your ceremony location at least 30 minutes before sunrise.
FOR SUNSET WEDDINGS – We should start your ceremony 2 hours before sunset.
If you have guest who notoriously run late, tell them the start time of your wedding is 1 hour earlier than your start time.  From my experience, late guest usually run an hour late then think everything is okay if they apologize.  Tell your late guest your wedding time starts one hour earlier, and everything will run perfectly.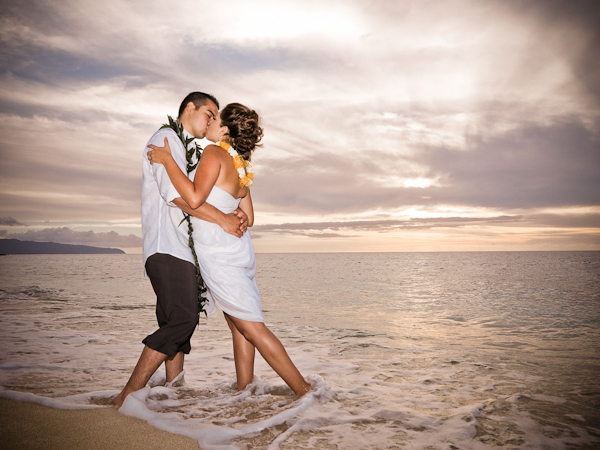 Stormy cloudy weather does not equate out to boring wedding photos
What is the best time for our photo session?
Photographers preach that the best light happens about an hour before sunset or an hour after sunrise.  But to me, that really isn't true.  If it's a cloudy day, or if there is volcanic fog around, that rule doesn't apply.  When shooting outdoors, light is always changing, so there truly is no best time for a photo session.  The best photographer should be able to get great photos at any time of the day, and achieve proper exposure and composition when he or she wants.
IN CONCLUSION
Well, these are pretty much the answers to the six variables of the most asked question by brides "When is the best time to get married Hawaii?"