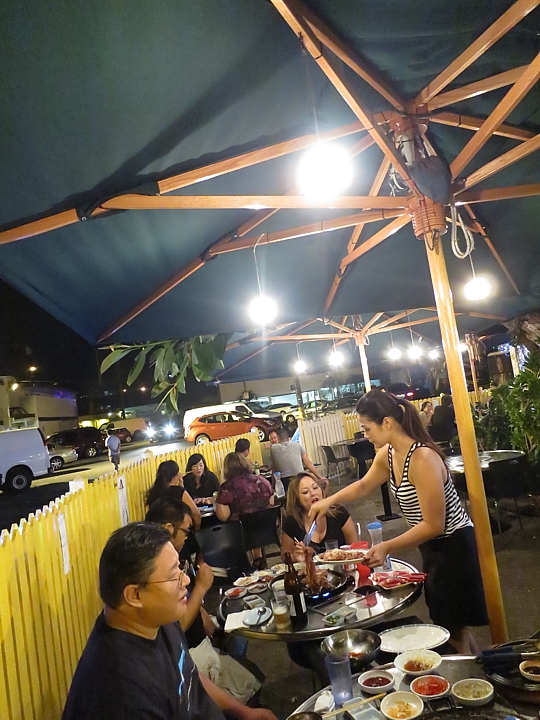 You can cook your own food, or they do it for you!
I Heart Korean Food, and You Should Too!
Yakiniku Don-Day is probably one of my favorite places to eat here on the Island.  I go there probably about two to three times a month to feed my soul, and I really never get tired of it.  I must admit, I do have a bias to the Korean culture as I love their food, their music, and their Korean dramas.
This restaurant is not one to consider for wedding receptions, but should be on your "to-eat" list while you are here in Hawaii.
Yakiniku, pronounced, YAH-KEY-KNEE-COO, is a Japanese term meaning grilled meat.  In a way, it's considered an Asian form of bbq.  Although the term Yakiniku originated from Japan, the Korean's embraced it wholeheartedly, and have taken it to an entirely new level of greatness.
At any Korean Yakiniku restaurant, you and your friends sit around a semi-large table with a hot-plate stamped smack dab in the middle of everything.   Your menu usually consist of different choices of meats ranging from pork, chicken, to beef, that are either marinated or plain.  All meats come to you raw, it's your job to cook it (or your server will do it for you for free!)
When I come to Yakiniku Don-Day, I usually order:
Kalbi Beef – short ribs marinated in a soy sugar onion ginger garlic saunce
Pork Belly – large slices of fatty bacon
beef brisket – thinly sliced beef that cooks extremely fast.
beef tongue – it's the cow tongue. Sounds gross, but taste rather good!
All of these beef dishes, except for the Kalbi, taste the best when it is dipped into a sesame oil, salt-pepper sauce that they bring you.
Joining your orders come with a host of unlimited Korean vegetable side dishes.  I have never seen a Korean restaurant charge for these side dishes, and Yakiniku Don-Day does not break that tradition.   Warning, some of these veggies, especially the ones that literally look red hot, can be red hot to those who are not used to spicy stuff.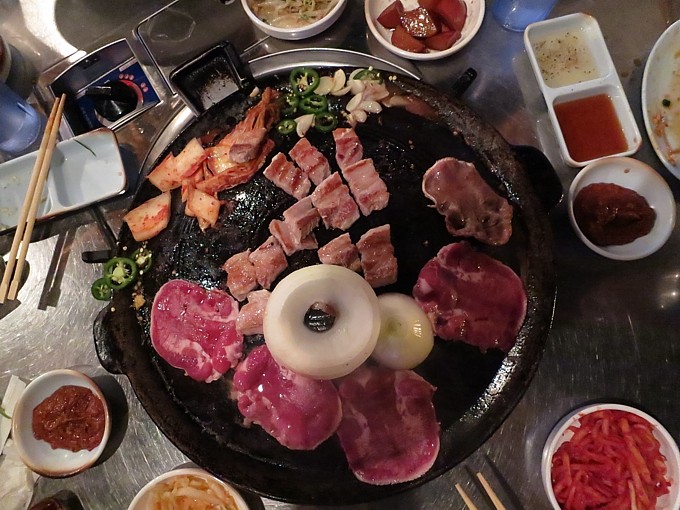 Pork belly and cow tongue tonight.  Cow tongue is surprisingly good!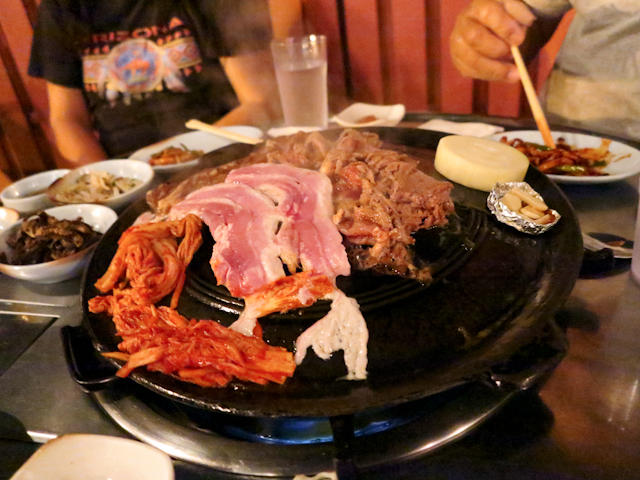 Kim Chee, pork belly, beef bulgogi
Another dish that I love is a dish called the "Korean Pancake."   The Korean Pancake is not anything like an American pancake.  It consist of fried eggs, flour, vegetables, pork or seafood, and some other secret seasons.  It's served like a pizza on a hotplate with a soy-vinegar sauce.  The pancake comes in three styles:  seafood, kim-chee, and curry.  Seafood is my favorite.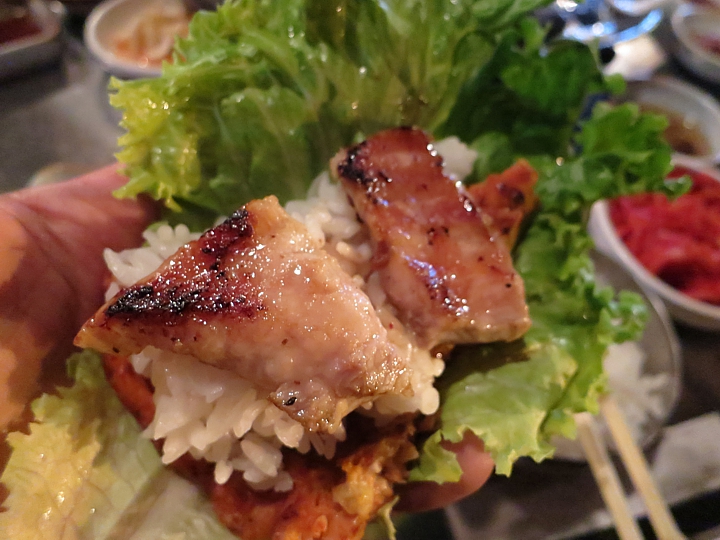 Lettuce Wrap of Goodness!  Seafood pancake on the bottom, rice, and two slices of pork belly
There is no correct way to eat Yakiniku.  You can just sample each dish separately or eat your meat with rice.  A popular method to eat is to create a little lettuce wrap that's filled with meat, rice, and Korean veggies.   One of my good friends, who is a certified "Gastronaut," created this awesome lettuce wrap that consist of:
A slice of seafood pancake with the soy-vinegar sauce

rice
two pieces of pork belly dipped in sesame salt-pepper sauce
It's such an awesome wrap, that it has become a must-have meal upon every visit.
Great food, combined with awesome friendly service, I label this restaurant, a MUST EAT.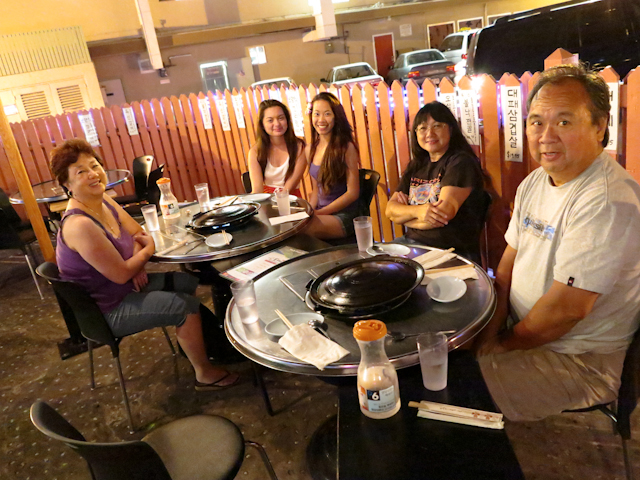 I take my family out to eat here as well.  I'm not in the shot, I'm taking the picture
 Yakiniku Don-Day is located at 905a Keeamoku St, Honolulu, HI 96814.  
It is five to ten minutes away from Waikiki.
They can contacted at (808) 951-1004
You can find their yelp listing here