Did that headline catch your eye?  Well, it better!
I just checked my travel inventory and prices of airfares to Hawaii are way down.   It's not just me who share this opinion.   Check out this article by clicking here.    Flights are especially cheap if you're leaving from the West Coast, between Monday and Thursday, and are planning to travel during October.  So, if you want a Hawaii Wedding, now's the time!
You'll find cheap airfares anytime college is back in session.   That's a good rule of thumb.  Kids fly who back home to Hawaii during the summer, families who take vacations because kids are out of school, and wedding couples all play their part in clogging the cheap air arteries during the summer.  Now, if you book early enough, you can pretty much get cheap air anytime.   That means if you're planning a summer wedding for 2018, now's the time to start looking at travel too!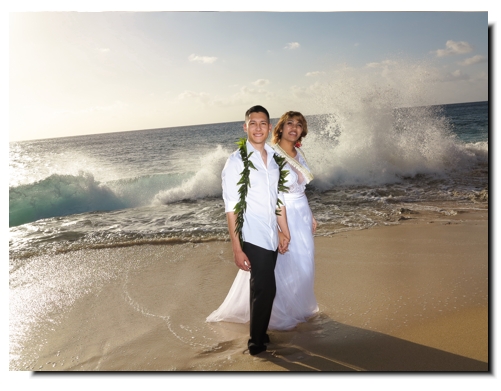 On the North Shore of Oahu.   My favorite place to shoot.
What is the downside of getting married in the Fall?   Technically, it's hurricane season.  So there is a higher chance of rain.   Because of this, make sure you plan to stay at least 7 days and to get married on the 2nd day you arrive.  That way if the entire island is predicted to rain, we'll get you married the day after.  If a hurricane is on its way, don't sweat it.  Usually, before a hurricane hits, the weather is great.  In fact, it's great up until the hurricane hits.  Here's a surprise vow renewal we did on the day a hurricane hit our State.
The upside?  The beaches and hotels are much more empty.  You have cheap hotel nights.   Oh, and it's not as humid.  Man, it's been freaking humid lately in Hawaii during the summer.  It almost feels as bad as Florida sometimes.
If you're planning to pull the trigger, let me know. My company offers travel and maybe we can do a wedding + travel package deal.