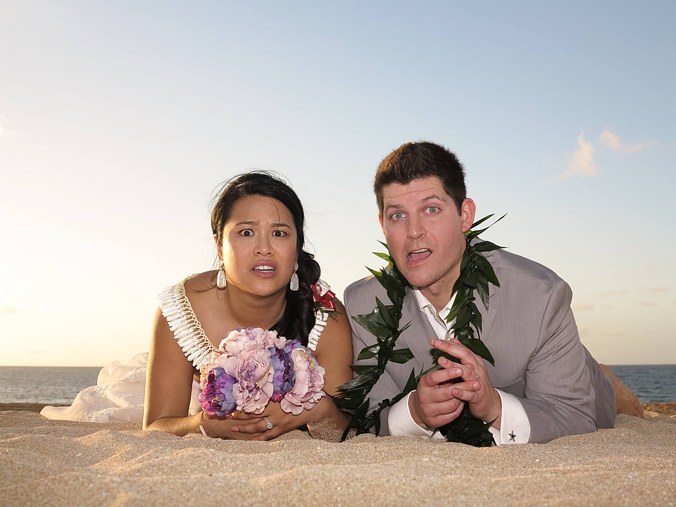 "What happens on the day of  our wedding, Steve!"  It's one of of themost common questions I get asked.  Well, here's a quick rundown.  But before I we skip to your wedding day, let's back up and talk about what you need to do BEFORE you tie the knot.
There are three basic things you need to worry about when arriving in Hawaii for your wedding:
GETTING YOUR MARRIAGE LICENSE – If you want your wedding to be legal, this is a must.  It's extremely easy to get your marriage license.  If you don't know how to get it, click here
GET IN CONTACT WITH ME – We'll be in contact before you depart for Hawaii.  But when you touch down, it's good that you get a hold of me just to let me know you made it here in one piece, with all of your luggage.  Sometimes luggage gets lost (rarely, though.)  Sometimes there are flight delays for you or your relatives.   This could affect your wedding date.  And if need be, we can definitely figure out how to hit any curve balls thrown our way.
GET YOURSELF ON-TIME TO THE WEDDING LOCATION – If you hired our limo service, you just need to find our limo, which will be very easy.  Just look for the limo driver with your name on the sign!   If you're driving yourself, like most of my couples, just get to the destination on time.   Before your wedding, I'll send you VERY EASY directions on how to get there.   With GPS on every smartphone these days, navigating should be easy, right?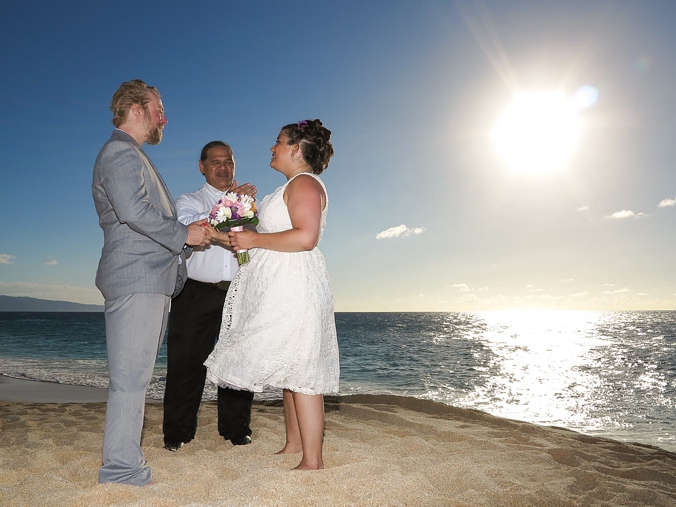 NOW ONTO YOUR WEDDING DAY!
FOR ME:  3 HOURS BEFORE YOUR WEDDING
I usually arrive at the wedding location a couple of hours before the start time.   I like to kick up my feet and relax before a wedding, answer emails on my laptop, watch an episode of Futurama, and maybe even catch a few zzzz's!
FOR YOU:  4 HOURS BEFORE YOUR WEDDING
Around this time, you're usually getting your hair and makeup done and your future husband is getting dressed.  You should be out of the door around 2 hours before your wedding.  You'll want to leave early because traffic can be a horrible.  If you have guests with you, you may want to leave even earlier.  Shiny objects tend to distract guest.
Make sure to bring your:
rings
marriage license!  If you didn't get your marriage license, click here to learn how to get it.
your fiance!  I never thought I'd had to say that, but don't forget him at the hotel.  That happened once!
You don't have to bring leis, flowers, hakus, or anything.  I'll have that with me at the location.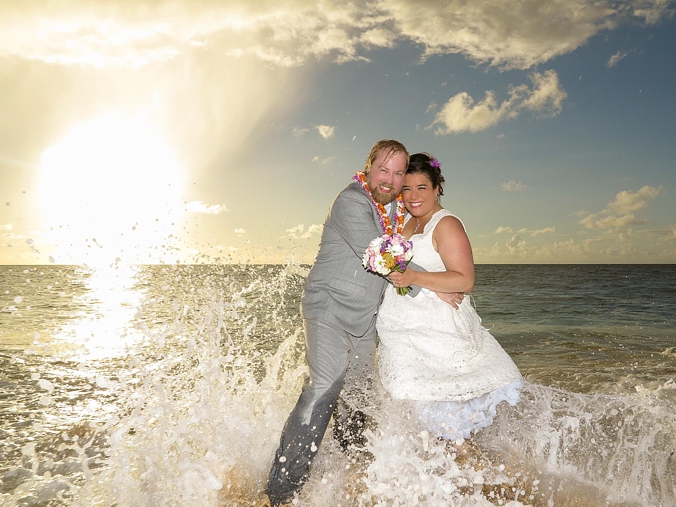 WHEN YOU ARRIVE AT THE WEDDING LOCATION
The wheels immediately go in motion!  I will be the first thing you see when you hop out that door, hopefully in a good mood!  Navigating to these beaches are very easy, especially with the GPS on every cell phone.  You should not get lost.
If you arrive early – we can start taking pictures before the ceremony.
If you arrive on-time – we will start the ceremony, pictures, as soon as we get settled on the beach.
If you want to do a first look – don't worry, I have ways to work that in as well!
If you arrive late – don't worry either, but we can adjust the timeline to make sure you get married and get great photos.
AND THE REST IS EASY!
Once the wedding is rolling, it's really simple from there.   Just listen to me and the minister, and we'll handle everything.  We've done over 6000 weddings, so this stuff really is like clockwork for us.  Customizing ceremonies can be done on the spot.  Coordination of precessions can be done minutes before the ceremony (there's no need for rehearsals)
Photos are really easy too!   I have a plethora of poses to use on you two, and if you have any ideas, let me know.   The trick to getting good photos is to just let go and relax.  And laugh.   That helps.   After an hour or two, we'll be done with your photos and you're on your way to dinner.
MY WORK JUST BEGINS
After your wedding, I will immediately start working on your photos and video.   Sometimes I can get them done pretty quick, sometimes it takes a bit.   It really depends on how oily you photograph, haha.   Sometimes I need to do quite a bit of touching up!  Wanna know what the editing process looks like?   Click here
As soon as I'm done, you'll get your goodies!